Macri enlists further financial and political support, but Peso continued to slide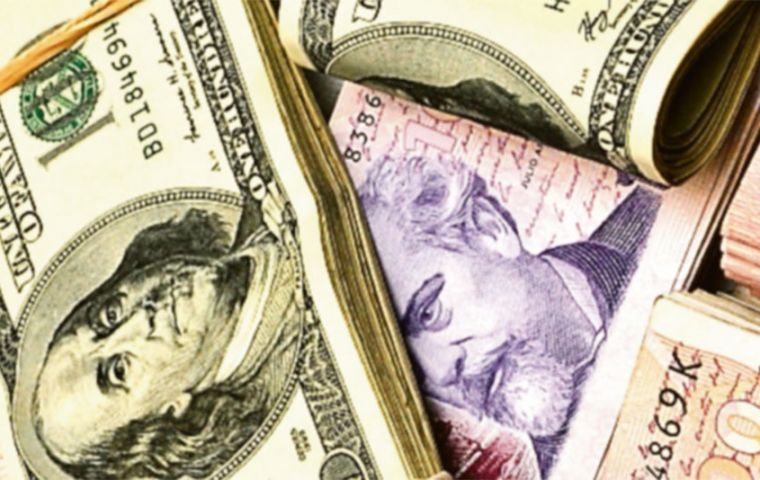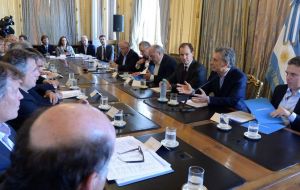 Argentina's central bank sold US$1.1 billion in the foreign exchange market on Friday and the peso weakened 2.74% to an all-time closing low of 23.35 per U.S. dollar despite talks aimed at securing an International Monetary Fund financing deal.
Argentina requested a "high access stand-by arrangement" from the IMF earlier this week after the peso depreciated rapidly, prompting the central bank to sell reserves and hike interest rates to 40% in a bid to contain one of the world's highest inflation rates as well as stop the peso slide.
Earlier on Friday, the peso fell to a record intra-day low of 24.50 per dollar as investors moved into dollar-denominated assets. For the week, the peso weakened 6.30%, and for the first 11 days of May it weakened 12.03%.
Many Argentines blame IMF-backed policies of the late 1990s for the country's 2001/02 economic meltdown. Some opposition politicians and activists have voiced concerns that the deal being drawn up in Washington will require painful fiscal belt tightening. Anti-IMF protests were held in Buenos Aires during the week and more were expected over the days ahead.
Industrial leaders and owners of small and medium-sized businesses, represented by a chamber known as CAME, met with President Mauricio Macri on Friday to discuss the upcoming IMF deal.
"He assured us that the resources will be used to calm the market and reactivate the economy," CAME said a statement. "The president gave us a lot of reassurance in terms of the scope and conditions of the agreement with the IMF."
The Merval stock index closed up almost 0.7 percent, capping a three-day rally of more than 12 percent, spurred by the potential IMF deal and Congress' approval of a capital markets reform bill earlier this week.
The country's over-the-counter bonds closed down 0.8% on average. Argentina's country risk - J.P. Morgan's measurement of the country's bond yields compared to safe-haven assets - was up 14 points on Friday, while the country risk of other Latin American economies such as Brazil and Colombia fell.
In an interview published on news website Infobae on Friday, Finance Minister Luis Caputo said the IMF deal could be accompanied by financing from other multilateral lenders including the World Bank, Inter-American Development Bank and the Corporacion Andino del Fomento, a development bank.
Asked for details, the World Bank said it was "in discussions with the government to determine how best it can lend its support to Argentina at this time." The IDB, which already has plans to lend Argentina US$2.4 billion this year, said it "will continue working with Argentina."