Military option in Brazil: hard-line ex general with presidential aspirations surfaces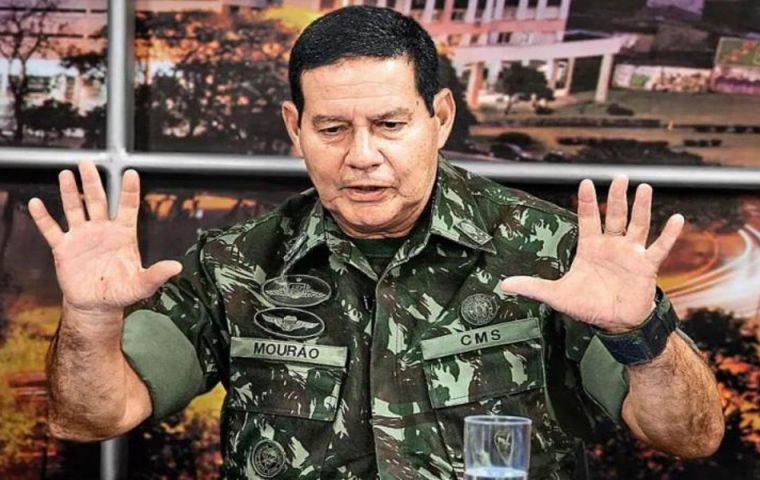 Antonio Hamilton Mourao, a reserve general in Brazil's military, has joined the Brazilian Labour Party (PRTB) days before the deadline, which would allow him to run for president in the October's general elections. His registration was made public Wednesday, shortly after presidential hopeful Joaquim Barbosa confirmed that he would not be a candidate in the election.
Levi Fidelix, leader of the PRTB, had said he would consider stepping aside from his aspiration to run for president to make way Hamilton Mourao candidacy. "Brazil has only one solution: general Mourao for president urgently!" he said in September.
Hamilton-Mourao's presidential run is being seriously considered by political observers, according to Brasil 24/7. With his primary campaign emphasis being public security.
He is a well-known critic of the "weak military intervention" in the state of Rio de Janeiro, and has called for a nationwide takeover by the armed forces. Commenting on the general overseeing the intervention in Rio, Hamilton-Mouraoo said: "General Braga Netto has no political power. He's a cornered dog who will not be able to solve (problems) this way… it's a partial intervention."
He has also called on Rio de Janeiro's state government officials to step down and said: "if it's an intervention, it's an intervention. Since it's already expenditure, let's spend it all."
Hamilton-Mourao has also showered praise on Carlos Alberto Brilhante Ustra, the coronel who headed the military dictatorship's notorious torture program in the 1970s. Former Brazilian President Dilma Rousseff was imprisoned for three years and suffered torture, including electrocution under Ustra's watch.
Analysts have predicted the forming of an alliance between Hamilton-Mourao and far right-wing presidential hopeful Jair Bolsonaro, of the Social Liberal Party, or PSL. If this scenario unfolds, it is expected that Hamilton Mourao will run as Bolsonaro's vice-president.