Nicarguan army sides with protests, calls for an end to violence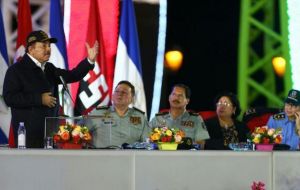 Nicaragua's military called for a halt to violence that has rocked the country during weeks of protests and a deadly crackdown by police and supporters of President Daniel Ortega's government. In a statement late Saturday, the army also expressed solidarity with families of those who have died — more than 60, according to a human rights group.
"We are the people themselves, in uniform, working for their benefit, and as a consequence we call for an end to the violence and actions that destabilize us," the statement said. It added that dialogue "is the only route" to avoid "irreversible harm" to the country in the political, social, economic and security spheres.
The protests have expanded to at least eight departments, including clashes over the weekend between protesters, police and pro-government civilian groups.
Homes and other buildings burned in the conflict areas, while official media accused a "vandal right wing" of seeking a "soft coup" against Ortega's government.
The most serious clashes occurred in Masaya, about 30 kilometers from the capital, Managua. Two more people died and at least 100 were wounded, according to the Nicaraguan Association for Protection of Human Rights. "It was a brutal attack against the civil population, which defended itself with stones and mortars against weapons of war," said the group's executive director, Alvaro Leiva.
After 10 days with no public appearances, Ortega said in a brief audio statement that he is committed to peace. "We wish to reiterate the call and commitment to put an end to the death and the destruction," the president said. "May the bloodshed of our brothers not continue."
Thousands of Nicaraguans who organized on social media took part Sunday in a caravan of vehicles, motorcycles and small buses in solidarity. Roman Catholic Cardinal Leopoldo Brenes called on all actors to seek a peaceful resolution to the conflict.
The demonstrations began in April as protests against a since-canceled move to cut social security benefits and increase payroll taxes but have expanded into calls for Ortega to step down.