UK sponsors seminar on "Innovation in the lithium supply chain" at Chile's Mining Fair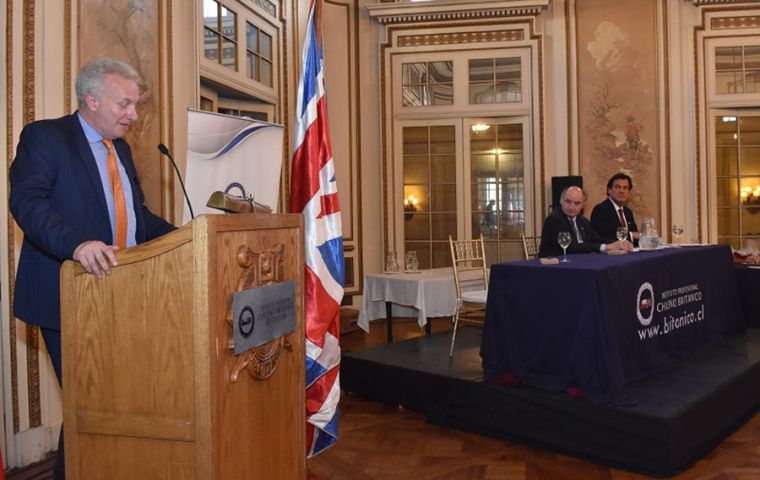 The British Embassy in Santiago and the Infrastructure and Energy Sector at the Inter-American Development Bank (IDB) organized during Chile's Expomin 2018 Mining Fair the international seminar, "Innovation in the lithium supply chain. Views from Latin America and the United Kingdom". Britain participated with a pavilion at Expomin, which is the largest mining exhibition in the Latin-American region.
The seminar aimed to develop innovation in the lithium supply chain by: developing stronger regional (Chile, Argentina, Bolivia) and international (United Kingdom) policy, industry and academic links; exploring future collaboration opportunities within the energy, mining and transport sectors.
David Gardner, Director of the Department for International Trade at the British Embassy Santiago, said: "We would like to thank the Infrastructure and Energy Sector at the Inter-American Development Bank (IDB) for collaborating with us on the organization of this seminar. Together, we are interested in promoting low carbon technologies, policies and innovative solutions related to energy storage and the development of value-added lithium products.
"The opportunity for clean growth is at the heart of the UK public policy. Launched in 2017, the UK's Clean Growth Strategy sets out our policies and proposals for de-carbonizing the UK economy through the 2020s, building on the UK's significant progress to date.
"Our Industrial Strategy aims to amplify and extend these plans across the whole economy, ensuring that our policies on innovation, skills, business, infrastructure, and local growth all support the goal of maximizing UK advantage from the global shift to clean growth".
The UK presentation was by Christopher Broadbent, from the UK's Institute of Materials, Minerals and Mining (IOM3), Fellow and Research Director at Wardell Armstrong called Innovations in the Lithium Supply Chain.