Argentine admits less growth and more inflation, but exports could be boosted with a dearer dollar
Tuesday, May 15th 2018 - 06:43 UTC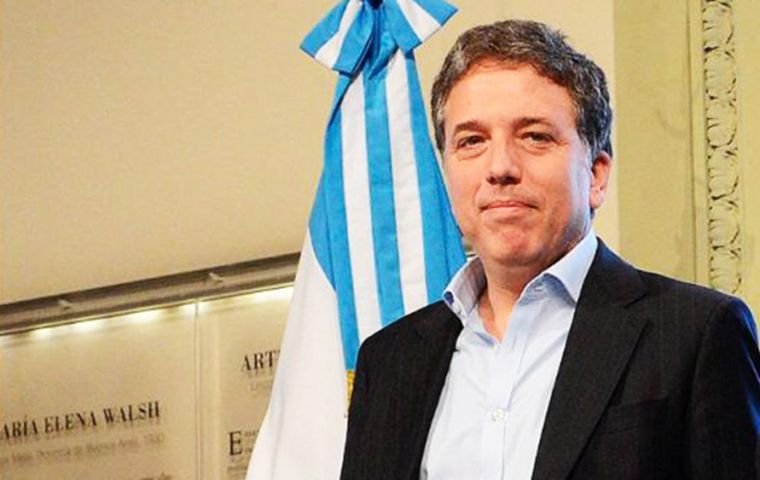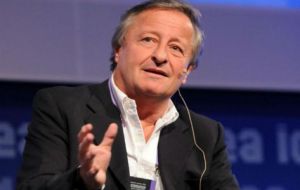 High interest rates will have a negative impact on activity, and the weaker peso resulting from a floating exchange rate regime will add to already sky-high inflation, but both are necessary to prevent a deeper crisis, Argentine Treasury Minister Nicolas Dujovne admitted on Monday.
"We will have somewhat less growth, and somewhat more inflation," Dujovne told reporters. "It is obvious that will happen."
Besides a stronger US dollar in global markets, and prospects of higher interest rates from the Fed, Argentina's weak fundamentals, nervousness regarding devaluation, not so distant memories of the 2002 melting of the economy, and concern over Argentina's drought-hit soy harvest are pressuring the peso lower.
This is particularly true since this Tuesday some 670bn in pesos known as Lebacs can be cashed or renewed. Because of the peso's volatility, the bank decided to buy back some of the assets. Interest rates on the notes have been rising in secondary markets, as the bank is widely expected to hike rates in Tuesday's auction to entice traders to roll over their maturing notes.
"The possibility of a complete renewal of the maturing (Lebacs) is not expected," consultancy Portfolio Personal said in a note, adding that in the four auctions so far this year, 14% of maturing Lebacs had not been renewed.
Argentina has also received proposals for US$3 billion worth of repurchase deals from banks in recent weeks. In recent months, the country has inked US$ 2 billion in such deals with Credit Suisse and HSBC.
Meanwhile in anticipation of a rough Tuesday, unions marched through the center of Buenos Aires on Monday to protest the IMF deal and Macri's increases in utilities rates, part of his effort to reduce the 7% of GDP fiscal deficit.
In a statement, Macri's office said he had spoken by phone with U.S. President Donald Trump on Monday morning, and that Trump had said he supported Macri's discussions with the IMF. The United States has the most voting power of any IMF member country, with 16.5% of the votes.
The White House brief release said that on Monday morning President Donald J. Trump spoke with President Mauricio Macri to reinforce the strong partnership between the United States and Argentina. "President Trump expressed strong support for President Macri's efforts to transform Argentina's economy, and the two leaders underscored the need to maintain momentum against the regime in Venezuela".
Argentina's stats office INDEC is expected to release on Tuesday April's Consumer Price Index, which according to private sources should be in the range of 2.6%, mainly because of public utility rates and transport increases. This means over 9% in the first four months of the year, and 60% of the 15% inflation target estimated for the whole of 2018 by government.
"The 15% target will be overshot; most probably inflation this year will be in the range of 25%, as last year or even more, according to the evolution of the dollar and the budget deficit", estimated Portfolio Personal.
But on the other side a currency at all-time lows has also provided relief to exporters who have complained about the so-called 'exchange rate delay,' or a peso they believe was artificially strong, since Macri took office in December 2015. In effect the Buenos Aires stock exchange Merval index was up 2.26% on Monday.
"I care a lot about exports - I have a new factory, I need to export," Cristiano Rattazzi, CEO of Fiat Chrysler Argentina, and a leading lobbyist for Argentine manufacturing said in a television interview. He added that 26 pesos per dollar - or another 4% below the all-time low hit by the currency on Monday - would be a fair exchange rate.
After Macri let the peso float early in his term, portfolio investment flowed in and Argentines repatriated funds stashed abroad due to high interest rates on public debt and optimism about market-friendly reforms. That kept the peso strong despite inflation of around 40% in 2016 and 25% in 2017.