Argentine Prosecution orders the arrest of 26 officers for alleged torture against conscripts in the Falklands
Thursday, May 17th 2018 - 08:20 UTC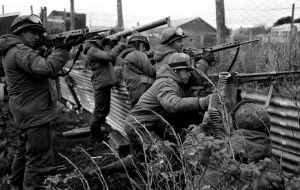 The Federal Prosecution Office from Rio Grande, Tierra del Fuego has called for the arrest of 26 officers allegedly involved in torture practices against conscripts during the Falklands conflict in 1982. The case has been ongoing for over a decade but it remains at snail pace.
Federal prosecutor Marcelo Rapoport working with the advice from the Crimes against Humanity prosecution special office, asked for the arrest of the 26 officers involved in 22 different cases.
The crimes allegedly were committed in West Falkland, by the Yapeyú Task Force, belonging to the Fifth Infantry Regiment, III Infantry Brigade, to which were assigned five military companies.
Prosecutor Rapoport said that military commands in the Falklands, during the conflict ordered and executed several different types of torture against soldiers, among which the most common was staking and burying. These methods were used to combat repeated indiscipline from ranks which complained bitterly about the lack of food and clothing for the winter weather.
The Rio Grande federal prosecution recalled the Argentine state international obligation of investigating such crimes and requested a raft of proves to help with several more actions incorporated to the demand.
"We're talking about crimes against humanity, war crimes, and under International Law, even before the case at this court, these crimes are considered imprescriptible" said prosecutor Rapoport.
The case was started following personal experiences of several conscripts at the end of the conflict, some twenty of them, which were collected and unified under a single claim by Pablo Vessel, at the time Human Rights secretary of the Corrientes Province government.
"Of the 23 original testimonies, soldiers said they had been victims of torture or witnesses of torture on their comrades and several referred to the death by starvation of at least three conscripts" said Vassal, who added the case was formally presented eleven years ago under the auspices of the "memory, truth and justice" movement.
With time the number of torture and ill treatment reports committed by Argentine military officers climbed to over 120, presented by soldiers from all over the country. Official information was reinforced in 2015 when some military data was declassified by then president Cristina Fernandez.
"From those reports it is clearly evident the enormous quantity of new torture cases, since under military rules, officers and petty officers were mandated to make daily reports and on return from the Islands, following the surrender, many of them acknowledged that rank and file had in effect been ill treated and abused", said Pablo Vessel, following a meeting with the prosecution.