Brazil leaves basic rate unchanged citing a more volatile world situation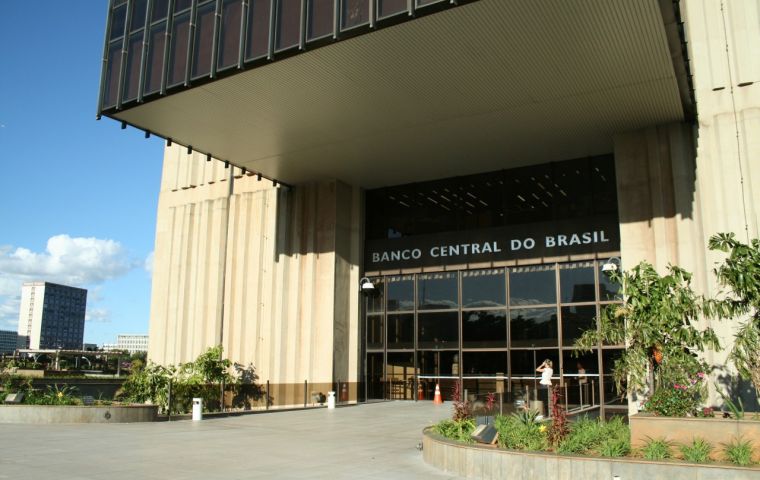 Brazil's central bank unexpectedly left its benchmark interest rate unchanged on Wednesday, citing a more challenging and volatile situation in world economies. The bank left its benchmark Selic rate at an all-time low of 6.5%, after signaling at its previous meeting it would cut at least once more.
It was the first time in 13 meetings that the bank didn't reduce the Selic.
"The global outlook has become more challenging and showed volatility," the bank said in the statement announcing its decision. The trend in inflation remains favorable, and the Selic's current level is "adequate" for coming meetings, the bank said.
The Copom statement attributed the decision to "the recent change in the balance of risks to prospective inflation."
In effect, the latest indicators show softening of economic activity in the context of a consistent, albeit gradual, recovery of the Brazilian economy.;
The global outlook has become more challenging and showed volatility. The evolution of risks associated, to a large extent, with normalization of interest rates in some advanced economies led to adjustments in international financial markets. As a result, risk appetite towards emerging economies has diminished;
The Committee judges that inflation developments remain favorable, with various measures of underlying inflation running still at low levels. This includes the components that are most sensitive to the business cycle and monetary policy;
Inflation expectations for 2018 collected by the Focus survey are around 3.5%. Expectations for 2019 and 2020 are around 4.0%; and Copom's inflation projections in the scenario with interest rate and exchange rate paths extracted from the Focus survey stand around 3.6% for 2018, and 3.9% for 2019.
This scenario assumes a path for the policy interest rate that ends 2018 at 6.5% p.a., and 2019 at 8.0% p.a., and a path for the exchange rate that ends both 2018 and 2019 at R$/US$ 3.40. In the scenario with a constant interest rate, at 6.50% p.a., and a constant exchange rate, at R$/US$ 3.60, the projections for both 2018 and 2019 stand around 4.0%.
The Committee emphasizes that risks around its baseline scenario remain in both directions. On the one hand, (i) possible propagation through inertial mechanisms of low inflation levels may lead to a lower-than-expected prospective inflation trajectory. On the other hand, (ii) frustration of expectations regarding the continuation of reforms and necessary adjustments in the Brazilian economy may affect risk premia and increase the path for inflation over the relevant horizon for the conduct of monetary policy. This risk intensifies in the case of (iii) further changes in the global outlook for emerging economies.