Cross-party group of UK parliamentarians on two-day visit to Gibraltar
Friday, May 18th 2018 - 07:37 UTC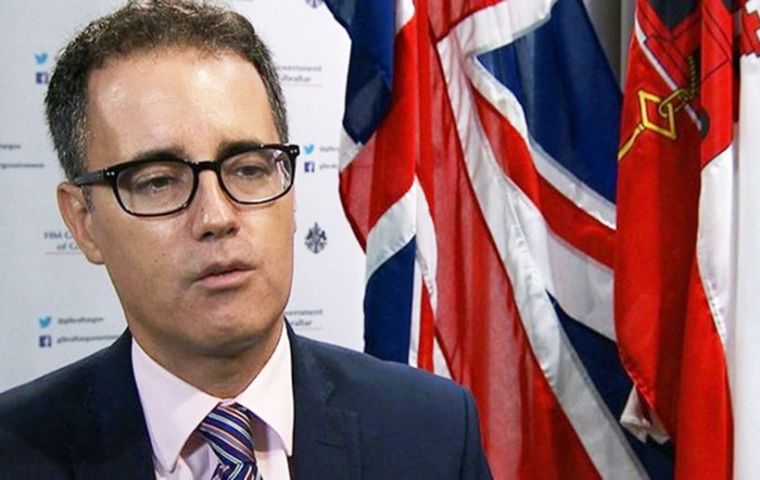 A cross-party group of UK parliamentarians is in Gibraltar on a two-day working visit. The visit takes place against the backdrop of the negotiations for the United Kingdom and Gibraltar to leave the European Union, which means that it will centre on Brexit issues.
The delegation of Parliamentarians are:
• Rt Hon Robert Goodwill MP, Conservative. Mr Goodwill is a former Minister for Transport, Minister of State for Immigration and Minister of State in the Department of Education.
• Liz McInnes MP, Labour. Ms McInness serves as Shadow Foreign Minister in Labour's Foreign Affairs team.
• Rt Hon Tom Brake MP, Liberal Democrat. Mr Brake is the Liberal Democrat spokesperson for Exiting the European Union and International Trade.
• Mike Gapes MP, Labour. Mr Gapes is a Member of the Foreign Affairs Select Committee of the House of Commons.
• William Humphrey MLA, Democratic Unionist Party (DUP). Mr Humphrey is a Member of the Northern Ireland Assembly where he is Chair of the Infrastructure Committee.
The visiting Parliamentarians received a detailed briefing on Brexit issues from the Deputy Chief Minister Dr Joseph Garcia, and later toured the frontier area and of the air terminal as part of the familiarization.
They also met with the Minister for the Environment Dr John Cortes and his team and were briefed on financial services issues by the Finance Centre Director.
A meeting with the Government and Opposition Members of the Brexit Select Committee of the Gibraltar Parliament and a courtesy call on the Governor was also scheduled. The MPs delegation also discussed events with the Chamber of Commerce and the Federation of Small Businesses. The delegation return to the United Kingdom on Friday.