A "transformational" year for Falklands Sea Lion development, says Rockhopper Exploration
Saturday, May 19th 2018 - 06:58 UTC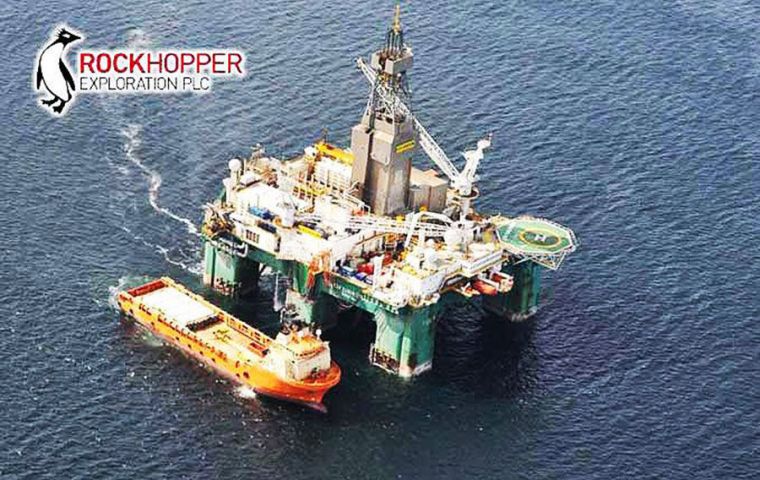 Rockhopper Exploration PLC at its annual general meeting on Friday said 2018 could be "transformational" as it seeks to secure funding for its Sea Lion project in the Falkland Islands. Rockhopper said it has nearly completed selecting the main contractors for the project, in the Falklands, as well as vendor funding worth US$ 400 million.
It said a lead bank is to be appointed "imminently" after several banks showed support for the project, with the lead bank to help arranging senior debt facilities.
Chairman David McManus said: "With Brent oil prices currently above US$ 75.00 per barrel, combined with the cost efficiencies secured through FEED and engagement with the contractors, the economics for the Sea Lion project are highly attractive."
Looking to its greater Mediterranean portfolio, Rockhopper said operations are meeting its objective of providing a production and cash flow base to fund operating costs and protect its balance sheet. Cash, it added, is preserved for investment mainly in the Falklands.
It has an "exciting" four-well drill campaign planned in Egypt to start in the middle of the year as well as infill development and exploration across in Abu Sennan and El Qa'a Plain assets.
In Italy, Rockhopper said an arbitration hearing for its Ombrina Mare field against Italy is scheduled for early 2019, with an outcome expected in the middle of next year.
Shares were 4.3% higher on Friday at 39.12 pence each. Finally, the company and its partner Premier Oil appears to be gaining some traction for the Sea Lion field, host to an estimated 517mln barrels of oil.