China/US trade talks on a more positive track; Beijing dumps sorghum levy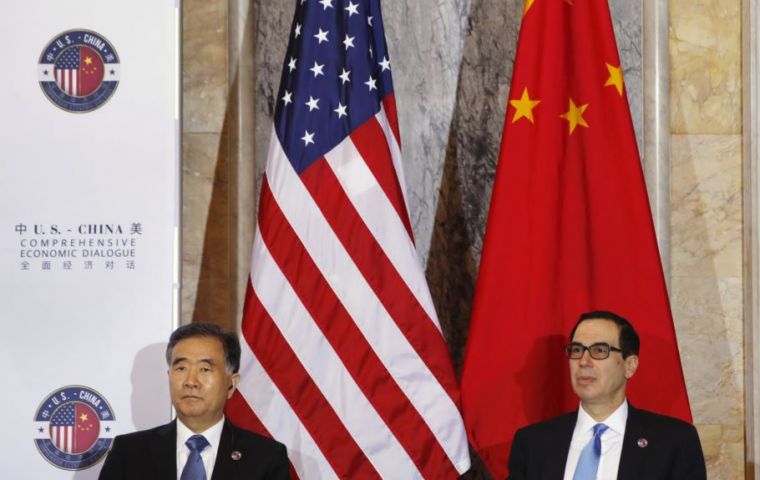 Beijing has dropped an anti-dumping investigation into imported U.S. sorghum, which it had accused the United States of unfairly subsiding. It has also given approval for a U.S. private equity firm to buy Toshiba's memory chip business. Those gestures could suggest a thaw with the U.S. as trade talks went on in Washington in an atmosphere of hopefulness but hardly assurance of a breakthrough in the impasse.
"China has come to trade," Larry Kudlow, the top White House economic adviser, told reporters Friday. "They are meeting many of our demands. No deal yet, to be sure, and it's probably going to take a while — it's a process."
China's Commerce Ministry said on Friday that it was ending its inquiry into whether the U.S. was dumping sorghum in the Chinese market at artificially low prices, saying the investigation was not in the public interest. A day earlier, Beijing had cleared the way for a group led by the U.S. private equity firm Bain Capital to buy Toshiba's computer memory chip business.
The moves signaled at least a willingness by Beijing to work toward a deal with Washington.
President Donald Trump said on Friday that America's lopsided trade relationship with Beijing — the U.S. trade deficit with China last year reached US$337 billion, its largest with any other nation — is "bad for our country. And we're changing it around."
A White House official said that China had offered to work to cut its trade deficit with the U.S. by US$ 200 billion, while stressing that any details remained unclear. But China's Foreign Ministry denied that any such offer had been made.
"It's untrue," said spokesman Lu Kang. "The relevant discussion is still underway, and it is constructive." The Commerce Ministry said it was ending the anti-dumping probe and a parallel anti-subsidy investigation because they would have raised costs for Chinese consumers.
The U.S. is China's biggest supplier of sorghum, accounting for more than 90% of its total imports. China's investigation, launched in February, had come as a warning shot to American farmers, many of whom support the Trump administration yet depend heavily on trade. They feared they would lose their largest export market for the crop, which is used primarily for animal feed and liquor.
"Anti-dumping and countervailing measures against imported sorghum originating in the United States would affect the cost of living of a majority of consumers and would not be in the public interest," according to a notice posted on China's Commerce Ministry website.
China's U.S. sorghum imports surged from 317,000 metric tons in 2013 to 4.76 million tons last year. Prices fell by about a third over the same period.
The announcement came after Trump met at the White House with Vice Premier Liu He, the leader of China's delegation for talks with a U.S. team led by Treasury Secretary Steven Mnuchin.