Priests sex-abuse in Chile: all bishops offered to resign after meeting the Pope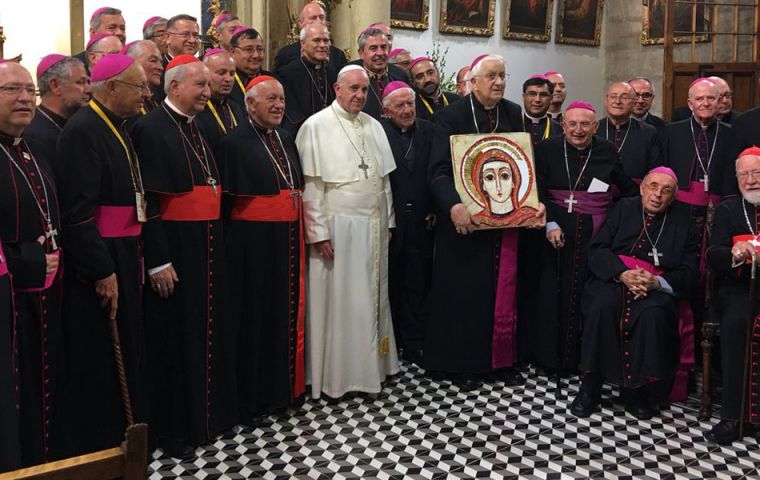 In an unprecedented move, all of Chile's bishops offered to resign on Friday after attending a crisis meeting this week with Pope Francis about the cover-up of sexual abuse in the country.
Several victims invited by the pope to Rome earlier this month said they wanted all 34 bishops sacked and replaced by more moral candidates, and for the Vatican to extend punishment to others implicated in the scandal.
The offer of mass resignations on Friday by the bishops summoned to Rome marks the first time that all the senior Roman Catholic prelates of a country have taken such a step, a Vatican official said.
A Vatican official declined to speculate on the pope's response. "We have put our positions in the hands of the Holy Father and will leave it to him to decide freely for each of us," the bishops said in a joint statement read out by a spokesman for them, Bishop Fernando Ramos.
The announcement followed four days of discussions in the Vatican, where the pope accused the bishops of "grave negligence" in investigating allegations that children had been abused and saying evidence of sex crimes had been destroyed.
Apologizing to the victims, the pope and to Chile for the failings of Chile's churchmen, Ramos said the bishops would all stay in their roles until Francis had decided what to do.
The scandal that has swirled around the Chilean church for more than 20 years erupted four months ago when the pope visited Chile, prompting questions about his response to the serious claims of abuse.
Chilean victims of abuse welcomed news the bishops were ready to stand down but insisted the Vatican should take further, punitive action against the bishops.
Juan Carlos Cruz, one of three Chilean victims invited by the pope to Rome earlier this month, said the "corrupt" bishops should be replaced by those in the church who had helped abuse victims.
The scandal revolves around Father Fernando Karadima, who was found guilty in a 2011 Vatican investigation of abusing boys in Santiago in the 1970s and 1980s. Now 87 and living in a nursing home in Chile, he has always denied any wrongdoing.
Victims accused Bishop Juan Barros of having witnessed the abuse but doing nothing to stop it. Barros, who was one of those who offered to stand down, has denied the allegations.
Friday's resignations came just four months after the pope had visited Chile in a trip that raised questions over his response to abuse scandals that have rocked the church over the past 17 years and his willingness to deal with the crisis.