Trump increases economic isolation of the Venezuelan regime of Maduro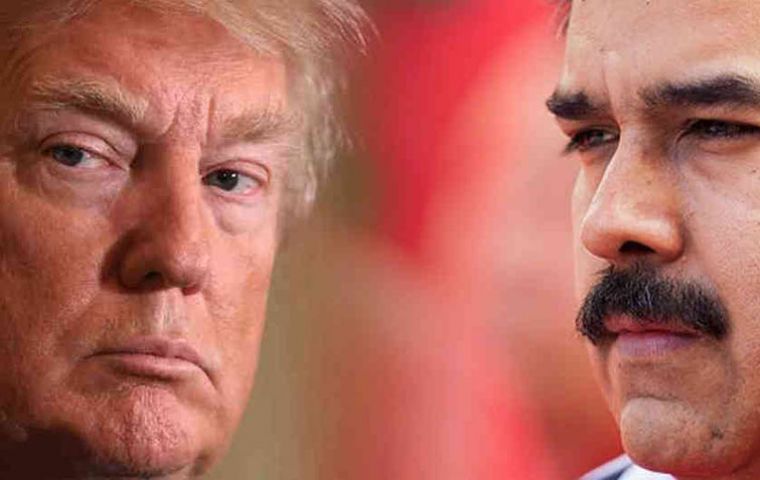 President Donald Trump on Monday increased pressure on Venezuelan President Nicolas Maduro with an executive order that restricts his regime from selling off public assets and blocks purchases of the country's debt.
White House officials unveiled the latest executive order against Maduro less than 24 hours after the embattled populist leader secured another six-year term in an election that drew claims of voter fraud and corruption.
Trump has issued two other executive orders since August targeting the Maduro regime — one that prohibited Americans from using Venezuela's cryptocurrency and another imposing new economic sanctions on the oil-rich country.
"The administration has never seen a kleptocracy like this," a senior administration official said on Monday. "We've never seen a country as wealthy as Venezuela is ... dive into such a death spiral so quickly by such a group of individuals determined to enrich themselves at the expense of millions of people."
"They have made abundantly clear, Maduro and his cronies, that they prioritize lining their own pockets ... over using precious government resources to feed their own citizens," a second administration official told reporters on a conference call about the latest executive order.
Vice President Mike Pence also tore into the Maduro regime on Monday, declaring in a statement that the United States "will not sit idly by as Venezuela crumbles and the misery of their brave people continues."
Thousands of Venezuelans have fled their country due to crippling economic conditions and shortages of food, water, and medical resources. A senior administration official likened the situation on Monday to the Syrian migrant crisis in 2015, noting the impact it is having on key U.S. allies in Latin America.
"The exodus of migrants is something paralleling Syria at this stage," the administration official said. "The effect on our close ally of Colombia is enormous. This is a true catastrophe in every sense of the word within the region."