Brazil's Temer calls on centrist parties to support Meirelles as presidential candidate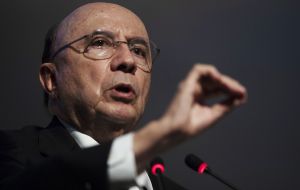 Brazilian President Michel Temer scrapped plans to run for re-election on Tuesday and said he supported his former finance minister, Henrique Meirelles, to stand as the presidential candidate of the ruling Brazilian Democratic Movement (MDB).
Temer, whose approval rating is stuck in the single digits as Latin America's largest economy slowly emerges from a historic recession, announced his decision at an MDB event. Temer, 77, and Meirelles, 72, have been polling in the low single digits ahead of the October election.
The president's decision was the first of many moves expected to consolidate the presidential race in Brazil, where years of corruption scandals and recession have hurt the chances of traditional parties in a wide-open race.
Over the weekend, Temer said Brazil's centrist parties needed to join behind one candidate if they were to win the presidential election and continue his pro-business policies and balance the federal budget.
Pressure had mounted on Temer to hand the mantle to Meirelles within the MDB party, as its leaders came to terms with his dismal chances of winning popular support and key allies began to launch their own candidates.
With less than five months until the 7 October vote, candidates across the political spectrum are still working to build party coalitions to lure voters disenchanted with Brazil's graft-tainted political class. Investors have been on edge amid uncertainty about the highly unpredictable race, in which few of the leading candidates have embraced Temer's fiscal reforms.
Temer last week touted his achievements in reviving the economy, reducing inflation and turning around state-run companies in the two years since he took over from impeached president Dilma Rousseff.
Still, his approval rating remained stuck at 4% in the latest MDA poll that showed that 71% of Brazilians considered his government bad or terrible, turned off by a string of corruption scandals and high unemployment. His rejection rate was even higher, with 88% of those surveyed saying they would never vote for him.