Facebook' Zuckerberg avoids questions and leaves EU lawmakers disappointed
Wednesday, May 23rd 2018 - 08:39 UTC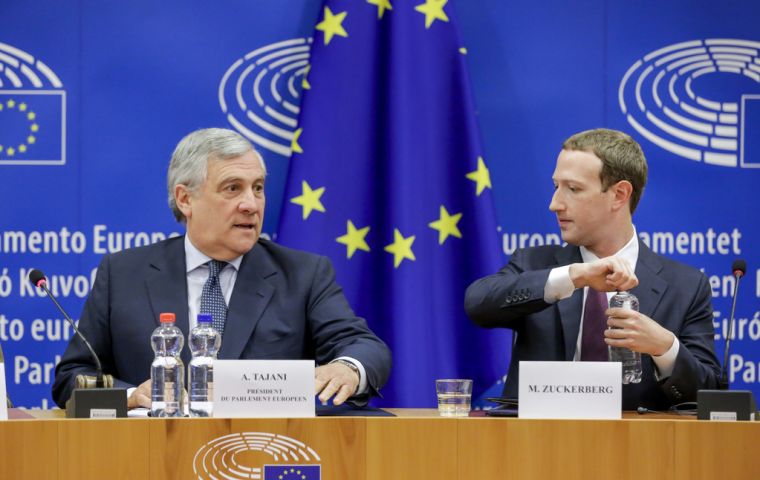 Tensions soared between a handful of leading MEPs and Facebook CEO Mark Zuckerberg as the 34-year-old billionaire avoided answering detailed questions on the company's data policies during a meeting in the European Parliament on Tuesday evening. Zuckerberg gave general responses to the MEPs, who came to the meeting ready to grill the CEO over Facebook's recent data scandal, its advertising policy, and whether the social media giant is a monopoly.
The back-and-forth went on for more than an hour and a half. It was scheduled to last one hour and fifteen minutes. Most of the speaking time was taken up by the dozen MEPs in the room, and Zuckerberg spent only around 20 minutes responding to groups of their questions at the end.
As he struggled to bat away restless MEPs' follow-up questions, Zuckerberg at one point said he wanted to be "sensitive to time because we're 15 minutes over the scheduled meeting". None of the MEPs had expressed concern over the time running out.
The exchange was peppered with slip-ups, accusations and heated comments. On several occasions, Zuckerberg appeared eager to move on to a different topic or to force a quick end to the meeting.
When Conservative British MEP Syed Kamall jumped in at the end of the meeting to remind Zuckerberg that he had not answered a question about how Facebook collects data belonging to people who are not users of the platform, Zuckerberg appeared anxious.
The CEO explained briefly that Facebook collects non-users' data for security reasons. He then turned to Joel Kaplan, Facebook's vice president of global public policy, and asked, "Were there any other themes that we want to get through?" Kaplan was seated next to Zuckerberg during the meeting.
Several MEPs faulted the format of the short meeting for Zuckerberg's quick responses. Kamall later said in a statement that the meeting was "a get out of jail free card and gave Mr. Zuckerberg too much room to avoid the difficult questions".
The contrast to Zuckerberg's performance before US lawmakers last month was clear: the CEO sat through more than ten hours of televised questioning before Congress.
Facebook CEO Mark Zuckerberg's meeting on Tuesday afternoon, 22 May, with European Parliament leaders is "the right thing for himself" after the company's recent data collection scandal, EU Justice Commissioner Vera Jourova said in an interview.
Tajani has celebrated Zuckerberg's agreement to speak in the Parliament as a victory. He negotiated the meeting for weeks, and Zuckerberg only confirmed last Wednesday, 16 May, that he would travel to Brussels.
But the private format with only a small group of MEPs fell short of what the Parliament called for last month. Tajani wrote to Zuckerberg asking him to appear at a public hearing before four Parliament committees, after news broke in March that around 87 million Facebook users' data was analyzed without their consent by political consulting firm Cambridge Analytica.
In the end, there was hardly any time for MEPs to grill Zuckerberg. And Tajani announced on Monday, only one day before the meeting, that the exchange would not be totally private – Zuckerberg agreed that the Parliament could live-stream the meeting.
In his opening remarks, Zuckerberg made an attempt to appeal to European lawmakers' concerns over privacy, political advertising before elections and extremist content on the platform. He boasted about the company's plans to hire local staff and open offices in more European cities. But most MEPs went straight for the hardball questions.
Manfred Weber, the German head of the centre-right European People's Party, said, "it is time to discuss breaking Facebook's monopoly because it's already too much power in one hand".
Weber also suggested that it "cannot be a decision for a company, that should be a decision for societies" whether Facebook should be forced to make its algorithms public.