In controversial vote US Congress rollbacks 2010 banking regulations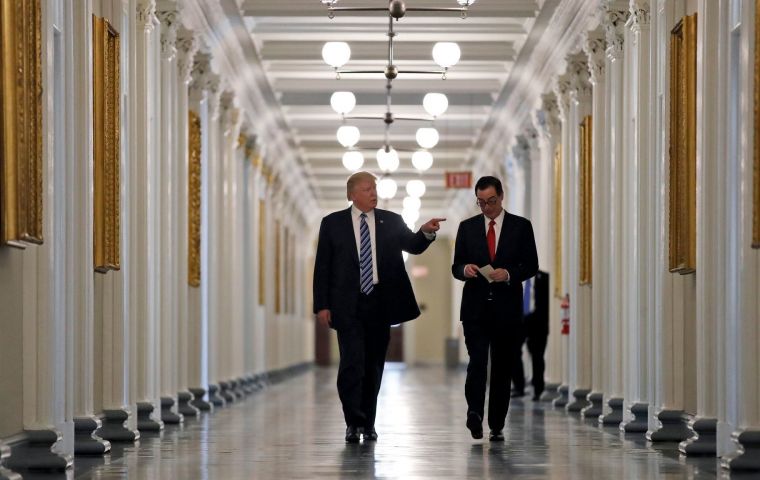 United States lawmakers passed Tuesday the first major rollback of banking regulations enacted after the financial crisis that were aimed at protecting taxpayers from fresh economic trauma and new bank bailouts.
The controversial measure cleared the House of Representatives on a bipartisan vote of 258 to 159 after successfully passing in the Senate. It now heads to the White House for the signature of President Donald Trump, who had long pledged to slash the existing reforms.
The bill frees thousands of small and medium-sized banks from the regulatory scrutiny imposed by the Dodd-Frank Act of 2010, while leaving key elements of the law in place for the nation's largest financial institutions.
The White House has argued that the measure shields banks from "excessive regulation."
But critics like House Minority Leader Nancy Pelosi blasted it as another effort to weaken the crucial Dodd-Frank reforms, which included what she called the strongest set of consumer financial protections in history.
"It opens the door to lending discrimination, and it potentially threatens the stability of our financial system and our economy," Pelosi told colleagues.
"The bill would take us back to the days when unchecked recklessness on Wall Street ignited a historic financial meltdown."
The Senate's March 14 vote came 10 years to the day after the collapse of New York-based investment bank Bear Stearns, widely seen as marking the beginning of the financial crisis that rocked the global economy.
Supporters say the new bill frees smaller banks and credit unions from onerous regulations aimed at reining in major financial institutions swept up in the financial crisis, and allowing them to focus on community lending.
"This is a major step forward in freeing our economy from overregulation," House Speaker Paul Ryan said.
"Main Street banks are engines of growth, and now it will be easier for these banks to lend to #SmallBiz and families," he added in a tweet.
Republicans have repeatedly sought to chisel away at Dodd-Frank, a Democratic initiative established after the financial crisis sent the US economy into a dangerous tailspin.
But supporters of the regulations, like Senate Democrat Elizabeth Warren, say that such arguments fall apart, given that banks have earned huge windfalls in recent years, and particularly in 2018, with passage of Trump's massive tax cuts.
"For years, armies of bank lobbyists & executives have groaned about how financial rules are hurting them," Warren wrote in a tweet before the House vote. "But there's a big problem with their story -- banks are making record profits."