Japan encouraging Central and South America to join the TPP trade pact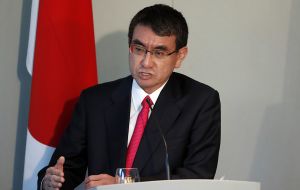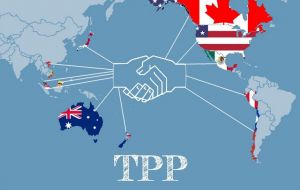 Japan is encouraging more countries from Central and South America to join the reworked Trans-Pacific Partnership trade pact, in hopes of both capturing the potential of these markets and pressuring the U.S. to return to a framework it left last year.
Japanese Foreign Minister Taro Kono attended the Group of 20 meeting in Buenos Aires on Sunday and Monday, where he stressed the importance of stronger free trade mechanisms. "The TPP has 'Trans-Pacific' in its name but is not limited to the Pacific Ocean," he said afterwards, calling on Central and South American countries to join.
The region has a combined population of about 600 million and a gross domestic product of around US$ 5.1 trillion. Japanese companies have been urging Tokyo to bolster economic ties with these countries.
Mexico, Chile and Peru are already part of the TPP, but Brazil and Argentina -- the two giants of the region -- are not. "Some in Japan's farming sector worry about imports from these two major agricultural producers, but there shouldn't be any problems as long as we stick to the terms we've agreed on for the TPP-11," a Japanese government source said, referring to the pact's 11 current members. But with both Mexico and Brazil electing new presidents in 2018, the global trend toward protectionism could spread. Kono is encouraging Latin American nations to join the TPP in an effort to prevent this from happening.
"The United Kingdom has already shown an interest in joining. So I would like to welcome Brazil and other Latin American and Caribbean countries to join it," Kono said in Sao Paulo on Sunday.
Current TPP members are working to ratify the deal at home, with an eye to putting it into effect in the first half of 2019. Any negotiations to add new members would happen later. Japan wants to open the door to any interested countries, including the U.K., Thailand and South Korea.
The pact would lower tariff rates among member nations, which in turn would make American products less competitive within the bloc. Tokyo hopes adding more countries would pressure Washington to return.
Colombia has already expressed an interest in joining. It is the only member of a four-nation Latin American trade bloc called the Pacific Alliance that is not also a part of the TPP. Bogota worries this could put it at a disadvantage on trade.
Japan is also hoping to use the TPP as a way to counter Chinese influence in Central and South America. Chinese Foreign Minister Wang Yi met with Argentine counterpart Jorge Faurie on the sidelines of the G-20 meeting, promising to provide maximum assistance for development of the region.