EU's Brexit negotiator has called for "realism" from UK government
Monday, May 28th 2018 - 08:10 UTC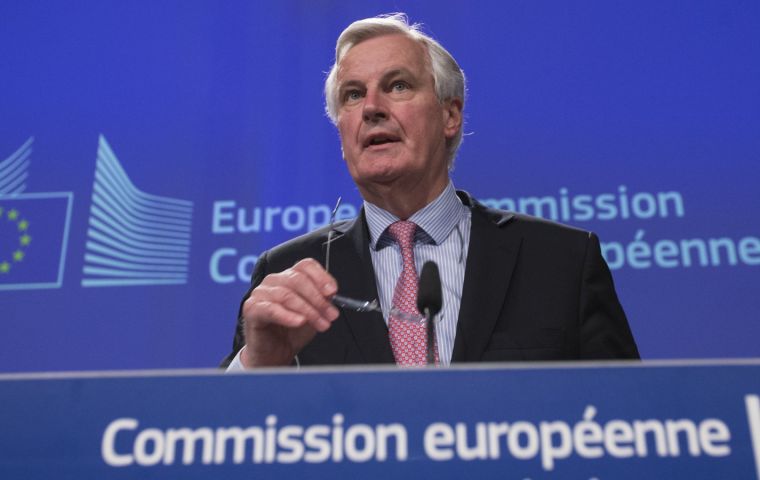 The European Union's Brexit negotiator has called for "realism" over the terms of the future relationship between the UK and Brussels. Michel Barnier's comments came after claims from EU officials that Britain has a "fantasy" approach to the talks sparked anger.
Chancellor Philip Hammond and Theresa May's top Europe adviser Olly Robbins were forced to defend the Government's approach after the criticism from Brussels.
Mr Barnier's intervention, during a visit to Portugal, illustrated the gap between the two sides in the negotiations. "Time is running short," he said, stressing the need to finalize the withdrawal agreement – including an agreed "backstop" proposal covering cross-border issues between the UK and Ireland.
Mrs May has rejected the European Commission's fallback option to cover the border, which would see Northern Ireland remain closely tied to EU rules – effectively creating a new border in the Irish Sea. She has promised to put forward the UK's alternative backstop proposal, although the Prime Minister remains hopeful of finding a way to solve the problem of the border within the wider post-Brexit deal.
Mr Barnier stressed that "realism is needed on the future relationship".
Earlier Chancellor Hammond insisted that talks with EU officials were "constructive" after reports from the continent that Britain was being "unrealistic" and little progress made in discussions in recent days.
Arriving in Brussels for talks with other finance ministers at the Economic and Financial Affairs Council, Mr Hammond said: "We are having very constructive discussions, I don't think that is a particularly helpful comment.
The increase in tension emerged after the UK made clear it would seek a return of £1 billion in funding it has put into the Galileo satellite system if the EU continued to shut Britain out of key aspects of the project post-Brexit.