Nicola Sturgeon in Brussels raised Scottish concerns over Brexit
Tuesday, May 29th 2018 - 09:04 UTC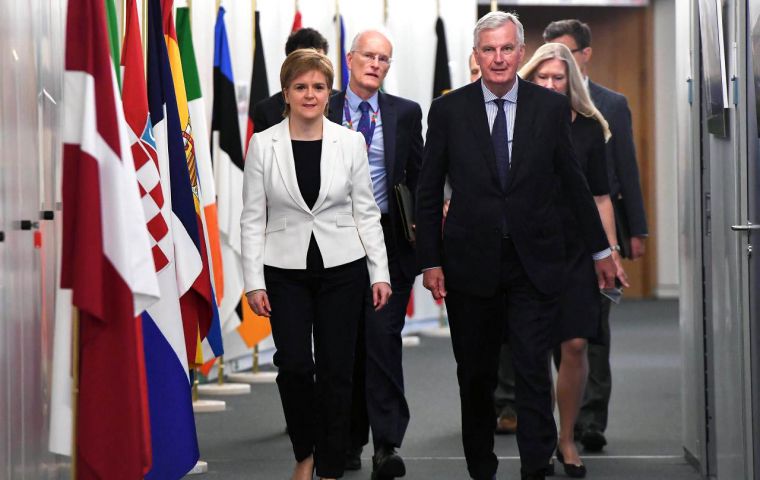 Nicola Sturgeon has raised Scottish concerns over Brexit in a meeting with chief EU negotiator Michel Barnier. The first minister said they held a "constructive and positive discussion" during her trip to Brussels. She said she told Mr Barnier that the Scottish government believed the UK should remain within the customs union and single market after leaving the EU.
And she emphasized her "strong view" that "time is running out for the UK" to strike a deal over Brexit.
Ms Sturgeon told BBC Scotland: "The clock is ticking and the longer it takes for the UK to reach a sensible position, the greater the risk of a no deal outcome to this which is in absolutely nobody's interest."
The UK is due to leave the EU in March 2019 and negotiators have said they want a deal in place by the end of the year.
The first minister accused the UK government of "floundering around" in its bid to secure a deal. She added: "With every week that passes without the UK being clear and focused and realistic about what it wants to achieve, that prospect of a damaging no deal seems to me to get greater and that's in nobody's interest.
"I don't think there's support for it in the UK and there's certainly no preparedness for it in the UK so sooner or later reality is going to bite for the UK government and my view is that we should try to make that sooner rather than later.
The meeting came after Mr. Barnier expressed frustration at the state of the negotiations, claiming that the UK was playing "hide-and-seek" by refusing to spell out exactly what it wants.
In a strongly-worded speech in Lisbon last week, Mr Barnier stressed that "time is and will remain tight", and called for progress to "speed up" if details of the future relationship are to be agreed before the Brexit date.
The Scottish and UK governments have been in dispute over what should happen to powers currently held by Brussels after MSPs refused to give their consent to the EU Withdrawal Bill.
Sturgeon held the meeting while in Brussels for the official opening of the expanded Scotland House, a hub for Scottish businesses in Europe.