Smog emergency in Santiago de Chile for the fifth day running
Tuesday, May 29th 2018 - 09:14 UTC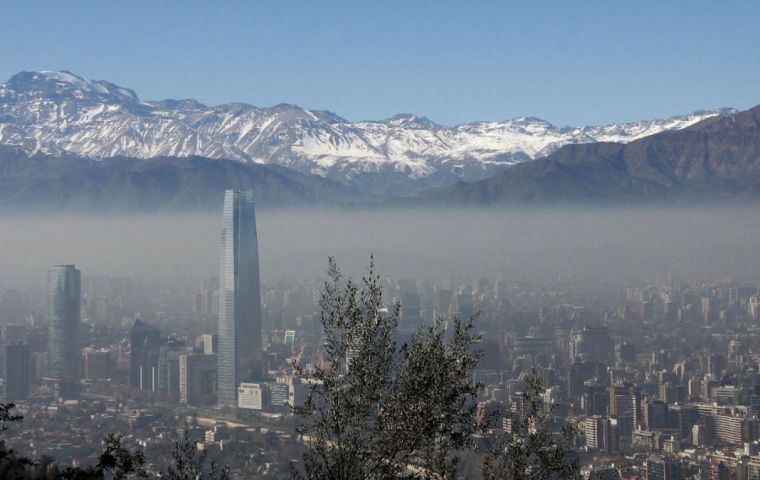 Santiago de Chile is under a smog emergency for the fifth day running because of the poor quality of air, as reported by the local authorities of the Chilean capital. For this reason 40% of vehicles without catalytic convertors, and with plate numbers ending in 0,1,2 or 3 are banned from circulating in the city. Likewise motorcycles manufactured before 2002 and with plate numbers ending in 0 and 1.
Besides, home wood stoves and burning farm fields is also banned, and there is a strong recommendation to avoid sports activities in the open, particularly in schools.
At 08:00 Monday morning of Santiago, eight of the monitoring stations reported that air quality was "regular", with 100/200 micrograms concentrations of toxic particles per cubic meter. However in the more posh quarters of the city, Las Condes, La Florida y Puente Alto, the level was described as "good", with less than 100 micrograms of toxic particles.
However on Sunday the monitoring station at Los Cerrillos, southeast of Santiago reported 302 micrograms per cubic meter of toxic particles, which is equivalent to a pre emergency situation.
The Chilean capital with seven million people is encased in a valley surrounded by mountains, and during autumn and winter months air quality worsens because of the absence of any breeze to disseminate the toxic particles, as well as the thermal inversion phenomenon.
This phenomenon means that surface temperature is lower than higher up, and thus particles remain at soil level. Monday's emergency alert is the eighth so far in 2018 since last 12 May.