Brazilian military "not worried", with strikers; protests are protected by the Constitution
Wednesday, May 30th 2018 - 09:39 UTC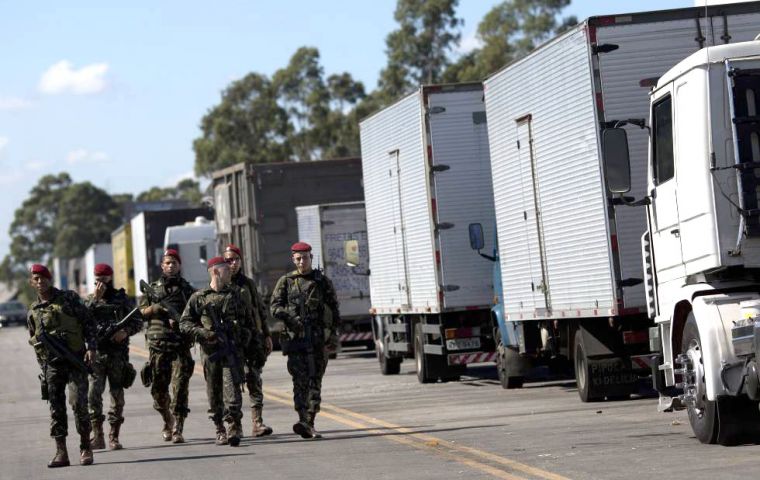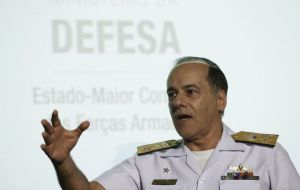 Brazil's Minister of Institutional Security Sergio Etchegoyen on Tuesday rejected calls to deploy military troops to break up protracted nationwide protests against fuel price hikes. Etchegoyen, a general appointed by President Michel Temer, said such a heavy-handed response was outdated.
Military intervention is "a matter of the past century ... but there is still someone, several people, who believe that it is a possible option," Etchegoyen told reporters following a cabinet meeting on the protests.
Steep increases in the cost of diesel led Brazil's truckers to block highways across the country starting May 21, disrupting deliveries of basic goods, including food and fuel. Despite some concessions from the government on Sunday, pockets of protests remain.
"Why have we arrived at a situation in which society, or part of society ... believes (military force) is a reasonable solution?" asked Etchegoyen. "I don't see any member of the military, I don't see the armed forces, thinking that."
As the protests continued, which caused shortages of fuel and food in some parts of the country and grounded flights, conservative sectors began clamoring for the military to be mobilized against the truckers
However Deputy Chief of Staff of the Armed Forces, Admiral Ademir Sobrinho, said in an interview he was "not worried" with the truckers strike and denied point blank any military intervention.
"We are not worried about making Brazil run again" said the officer. "We have no coordination with what's going on. We strictly abide by the Constitution, which means abiding by democracy", underlined Admiral Sobrinho.
Following on Sunday's statement from Defense minister General Joaquim Silva e Luna, the admiral said "people are free to protest as they wish."