EU facing an existential crisis, argues billionaire George Soros
Wednesday, May 30th 2018 - 09:13 UTC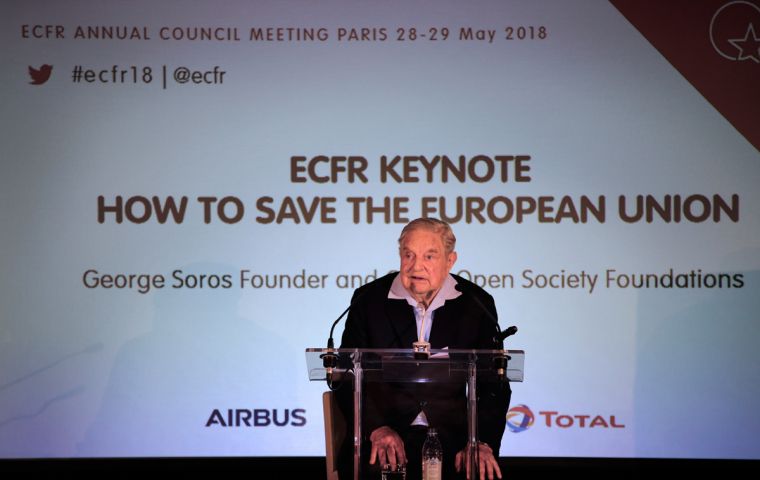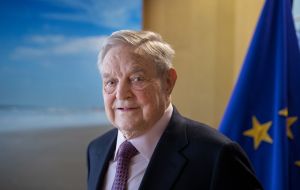 Anti-Brexit billionaire George Soros has urged the EU to "transform itself into an association that countries like Britain would want to join". Soros said in a speech that Brexit was an "immensely damaging process" for both sides that would "probably" take more than five years to sort out. He warned the EU was "facing an existential crisis" on several fronts.
Mr Soros said the Best for Britain campaign to halt Brexit would launch its "manifesto" within days.
The Hungarian-born currency speculator, now a US citizen, became known as the "man who broke the Bank of England" after he bet against the pound in 1992, forcing the UK out of the European Exchange Rate Mechanism. He is reported to have given about £500,000 to Best for Britain, which was set up last year by anti-Brexit campaigner Gina Miller.
In his speech to the European Council on Foreign Affairs, a think tank he helped found, Mr Soros said: "Divorce will be a long process, probably taking more than five years.
"Five years is an eternity in politics, especially in revolutionary times like the present. Ultimately, it's up to the British people to decide what they want to do. It would be better however if they came to a decision sooner rather than later."
Best for Britain aims to persuade MPs to back a referendum on the final Brexit deal when they vote on it in the Autumn - and to persuade enough Leave voters to change their minds so Brexit can be stopped.
The campaign is set to launch its manifesto "in the next few days", said Mr Soros in his speech. "Best for Britain fought for, and helped to win, a meaningful parliamentary vote which includes the option of not leaving at all.
"This would be good for Britain but would also render Europe a great service by rescinding Brexit and not creating a hard-to-fill hole in the European budget.
"But the British public must express its support by a convincing margin in order to be taken seriously by Europe. That's what the Best for Britain is aiming for by engaging the electorate."
Prime Minister Theresa May is committed to leaving the EU's single market and customs union after Brexit, which officially takes place on 29 March next year, although a transition period is currently set to last until 31 December, 2020.
The UK voted to leave the European Union in a referendum in 2016 by 52% to 48%. Opinion polls suggest the country remains pretty well split down the middle on the issue, with no significant swing in either direction.
Mr Soros said: "The economic case for remaining a member of Europe remains strong, but it will take time for that to sink in.
"In the meantime, the EU needs to transform itself into an association which nations like Britain would want to join."
That meant abandoning the requirement for "ever closer union" between member states and the stipulation that they should all work towards joining the euro, he argued.
But Brexit was not the only issue threatening the future of the EU, said Mr Soros in his speech, claiming the bloc was facing "an existential crisis - everything that could go wrong has gone wrong".
The 2008 financial crisis and the huge influx of refugees in 2015 had led many young people to "regard the EU as an enemy that has deprived them of jobs and a secure and promising future," he said.