Brazil's strike: massive losses: 70m chickens slaughtered; exports of soy, sugar and coffee cancelled
Thursday, May 31st 2018 - 07:02 UTC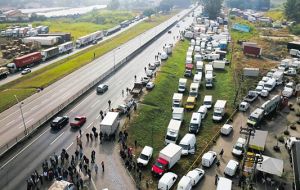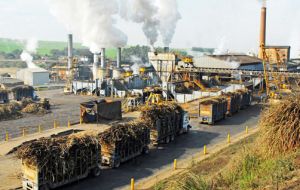 Striking truckers in Brazil have disrupted supplies and exports from one of the world's agricultural powerhouses, triggering the premature slaughter of millions of chickens as feed failed to reach farmers. The strike over high fuel prices has paralyzed Brazil, the top global exporter of soybeans, sugar, coffee and chicken.
Industrial action was to spread to the country's oil sector on Wednesday, when workers started a 72-hour strike.
Losses to farmers alone so far in the strike are estimated at 6.6 billion Reais (US$ 1.76 billion), the country's CNA farm lobby said, adding that it could take farmers six months to a year to recover from the impact of the protest.
Disruption to the supply of animal feed has had a devastating impact on livestock. Some 70 million chickens had been slaughtered as of Monday because producers have no food for them, said poultry and pork processing association ABPA.
If they begin to starve, chickens start eating each other, so meat packers have culled flocks quickly, ABPA said. Farmers were running out of space to dispose of their carcasses, it said.
Brazil is the world's top chicken exporter, accounting for over a third of global exports, and is a major supplier to Asia and the Middle East. ABPA estimated that the country had lost 120,000 tons in potential exports since truckers began protesting.
Nearly 4,000 trucks of beef are sitting on roadsides throughout the country, and the meat will soon rot, said beef packer trade group Abiec. Only two of Brazil's 109 beef processing plants continued to operate, according to Abiec, and even those plants were working at half their capacity.
Brazilian beef processors said they had lost an estimated 40,000 tons of potential exports worth US$ 170 million since the strike began. But in a sign that the problem may be easing, Brazil's third largest poultry and pork processor, Cooperativa Central Aurora Alimentos, said it aimed to restart its 16 plants this week.
Soybean exporters are considering declaring force majeure on shipments, a contractual clause that releases them from obligations because of events beyond their control, according to Anec, a trade group representing grains exporters such Archer Daniels Midland Co. and Louis Dreyfus Co.
No trucks had delivered soybeans to Santos, the largest port in Latin America, since the protests started on May 21, an Anec group spokesman said. And all crushing units had ground to a halt in Brazil because of lack of supplies, industry group Abiove said.
International sugar futures notched their biggest percentage one-week rally so far this year as the strike prompted worries that millers in the world's top sugar producer and exporter would slow crushing and be unable to get product to ports.
Around 150 sugar mills have already shut down in the state of Sao Paulo alone, trade group UNICA said in a statement. About 60% of the country's ethanol and sugar are produced in the state.
Brazil's top coffee exporter Cooxupe warned foreign clients last week about possible shipping delays due to the protests. Brazil is the biggest grower and exporter of coffee. The Brazilian coffee industry is losing an estimated 70 million reais (US$ 18.75 million) per day due to the protests, trade group Abic said.