Paraguay will have a woman president for the first time in history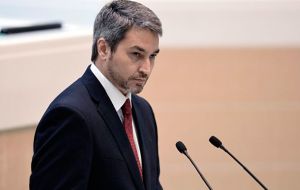 Paraguay will have a woman president for the first time in its history, at least temporarily, after outgoing leader Horacio Cartes decided to step down ahead of schedule. Vice-President Alicia Pucheta, 68, will complete Cartes' mandate after he resigned to become a senator.
On August 15, fellow conservative Mario Abdo Benítez, elected in April 22 polls, will begin his five-year term as president of one of Latin America's poorest countries.
Parliament is due to confirm Cartes' resignation and proclaim Pucheta as interim president this week. Opposed to the legalization of abortion, Pucheta is from the right-wing Colorado Party, which has been in power in Asunción for decades.
However, opposition Senator Desirée Masi said she does not see Pucheta's nomination as an advance for women in Paraguay.
"A woman who has shown her complete submission to those in power does not represent us," she said. "One day, a woman will be come to power as she should, through the ballot box."
But Lilian Samaniego, a senator from the Colorado Party, hailed the former lawyer's accession to the position as an example to "motivate Paraguayan women to continue to fight for real equality of opportunity with men."
Paraguay has just eight women among its 45 senators, and 11 among the 80 members of the lower house.
Cartes' resignation had been expected since he was elected to the Senate in the April elections. The new senators are to be sworn in on June 30.
Landlocked Paraguay – sandwiched between Argentina, Bolivia and Brazil – enjoyed consistent economic growth during tobacco magnate Cartes' five years in power, but failed to shake off persistent poverty, corruption and drug-trafficking.
It remains a land of contrasts, still marked by the 1954-1989 dictatorship of general Alfredo Stroessner. Despite an official campaign against endemic corruption, Paraguay remains 135th out of 180 countries on the 2017 corruption index of Transparency International.
Under Paraguay's Constitution, former presidents automatically become senators for life, with a voice but without a vote.
But Cartes, 61, won a full Senate seat during last month's elections, a post that would help him extend his political influence into the future, and the Supreme Court ruled that it was constitutional. He has to resign before his term ends so that he can be sworn in as senator for the coming sessions.
Former presidential candidate Efraín Alegre of the opposition Authentic Radical Liberal Party argued that Cartes' position as a voting senator is illegal since all "ex-presidents turn into senators for life under the Constitution," a largely symbolic post that doesn't carry a right to a vote, salary or immunity from prosecution.
Before becoming president, Cartes added to a family fortune with two dozen companies that dominate industries from banking to tobacco to soft drinks to soccer, making it difficult to make a move as president without generating complaints of conflicts of interest.
Cartes has often faced — and denied — accusations that his wealth was fed by money-laundering, cigarette smuggling and drug-trafficking. But Paraguayan voters overlooked the allegations, focusing on hopes that the Cartes would help boost the economy of one of South America's most unequal nations.
Paraguayan authorities recently issued an arrest warrant for a man Cartes has described as his "soul brother" as part of a sweeping investigation into corruption in Latin America.
A financial crimes prosecutor has accused the president's friend, Darío Messer, of money-laundering and criminal association. The dual Brazilian-Paraguayan citizen has been on the run since Brazilian authorities issued an arrest warrant there.
Brazilian authorities allege Messer is the leader of a group of Brazilian illicit money dealers who delivered bribes as part of the "Operation Car Wash" kickback scheme, the biggest corruption scandal in the history of Brazil.