Different flavors, but Italian pizza: coalition government takes office this Friday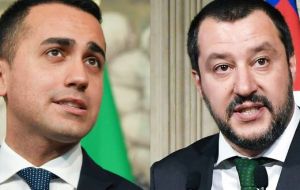 A coalition government has been agreed in Italy, ending months of uncertainty in the EU's fourth-biggest economy. Prime Minister-designate Giuseppe Conte presented his list of ministers to President Sergio Mattarella for the second time in a week and the new government will be sworn in this Friday, June first.
Ministers are drawn from both the anti-establishment Five Star (M5S) and the right-wing League. Attempts to form a technocratic government had failed.
President Mattarella rejected Mr Conte's original choice for economy minister but a different candidate was agreed on Thursday. After meeting President Mattarella, Mr Conte confirmed reports that the new candidate for the key economy minister post would be economics professor Giovanni Tria.
M5S leader Luigi Di Maio and Mr Salvini said in a brief joint statement: "All the conditions have been met for a M5S-League government."
Other notable appointments to the new cabinet include: Interior and Deputy Prime Minister: Matteo Salvini (League); Industry and Deputy Prime Minister: Luigi Di Maio (M5S); Foreign: Enzo Moavero Milanesi (independent, ex-European Affairs minister); Defence: Elisabetta Trenta (M5S); European affairs: Paolo Savona (independent), the controversial original choice for finance.
"We will work intensely to realise our political objectives which we have already put together in our government contract," Mr Conte was quoted.
The new government is expected to be sworn late on Friday and after the ceremony, it will face confidence votes in both chambers of parliament, where the M5S and the League have a majority. Conte is taking over from Paolo Gentiloni, who led a coalition cabinet for two years.
Professor Tria is currently a member of the Italian Economic Society; Member of the American Economic Association; President of the Italian National School of Public Adminiistration; Full professor of Political Economy, Faculty of Economics, University of Rome "Tor Vergata". Delegate for the Italian Government on the Board of Directors of ILO (International Labour Office); Member of the "OECD Innovation Strategy Expert Advisory Group" and Vice Chair "Committee for Information, Computer and Communication Policy" (ICCP); Director of "Master of Development Economics and International Cooperation" - MESCI - University of Rome "Tor Vergata" and Director of the Erasmus Mundus Master Program "International Cooperation and Urban Development", University of Rome Tor Vergata
Between 1995 and 2002 he was a Visiting Scholar, Department of Economics, Simon Fraser University, (British Columbia, Canada). 1994 Visiting Scholar, Department of Economics, Birkbeck College, University of London. 1992-1993 Professor of History of Economic Thought, Faculty of Economics, University of Rome "Tor Vergata". 1991-1992 Professor of Economics, Faculty of Law, University of Perugia. 1986 Visiting Scholar, Department of Economics, Columbia University, New York. 1984 Visiting Scholar, Department of Economics, Columbia University, New York. 1978-79 Visiting Scholar, University of Beijing.