Argentine cabinet chief honors all Falklands' conflict fallen at St Paul's cathedral in London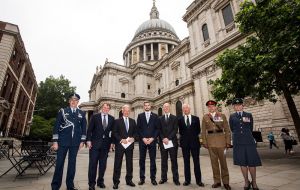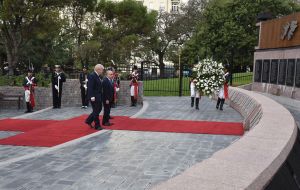 Argentine cabinet chief Marcos Peña honored all combatants fallen during the Falkland Islands conflict and laid a wreath at the crypt in London's St Paul Cathedral, which remembers the 1982 South Atlantic war.
The simple but highly emotive Monday morning ceremony was attended by delegations from Argentina and the UK, and redoubled the strong message from Foreign Secretary Boris Johnson during his recent visit to Buenos Aires when he also honored combatants fallen during the Malvinas conflict.
Peña who is in London for a two-day agenda of meetings with ministers, lawmakers, investors and financial media was accompanied at the ceremony by Argentine Strategic Affairs Secretary Fulvio Pompeo, Argentine ambassador in London, Carlos Sersale di Cerisano, and retired Colonel UK Geoffrey Cardoso, who was responsible in 1982/83 for burying dead Argentine combatants, left in the battlefields, in what was to be known as the Argentine military cemetery at Darwin. Likewise the British representation included Foreign Office minister for the Americas, Sir Alan Duncan, Armed Forces minister Mark Lancaster and UK ambassador in Buenos Aires Mark Kent.
"This is a symbol of respect and of significance remembering all those fallen in the Malvinas Islands, as Foreign Secretary Boris Johnson did in Buenos Aires", said Peña in brief comments to the media present, "It's a homage, to all those fallen on both sides, a very emotive ceremony", added the cabinet chief.
Two weeks ago Foreign Secretary Boris Johnson visited Buenos Aires and performed a similar ceremony at the monument honoring Argentine combatants in San Martin Square.
Peña also underlined Argentina's gratitude with Colonel Cardoso and all he did for the Argentine combatants. "He was been very generous. What he did is a most moving sequence of events, particularly two months ago when families could reunite with the clearly identified tombstones of their children, brothers, parents and relatives", buried at the Argentine military cemetery in Darwin.
"We've come to London with a humanitarian purpose, a peaceful reminder. To continue with a very interesting agenda to increase and strengthen bilateral relations, to work closely and advance with a shared agenda", concluded Peña.
Following the early morning ceremony the Argentine cabinet chief was scheduled to meet Chancellor Philip Hammond, Foreign Secretary Boris Johnson, International Trade Secretary Liam Fox and Environment and Agriculture Secretary, Michael Grover.
Monday afternoon Peña was to visit Westminster and meet with members of the Argentina Friends Parliament group, headed by MP Mark Menzies. In the evening the Argentine embassy hosted an official dinner for the visiting party, UK ministers, lawmakers, business leaders, academics and potential investors.
On Tuesday the Argentine cabinet chief is scheduled to give a conference at an event in Chatham House, "Argentina G20 Presidency: Political change promoting an agenda for a global sustainable economy", in which he will outline Argentine prospects and priorities. Since Argentina holds the rotating presidency of G20 during 2018, Peña is expected to talk about inclusive development and commitment to an agenda emphasizing free trade, a sustainable future, infrastructure and the new challenges for labor, climate change and feeding a hungry world.
Chatham House event can be followed on https://www.chathamhouse.org/livestream 5 June - 13:00 to 14:00.-
Finally before leaving for New York, Peña is expected at 10 Downing Street to meet with Cab net chief minister David Lidington and Peter Hill, PM Theresa May main private secretary who is also in charge of G20 affairs and involved in the end of the year world leaders' summit scheduled to take place in Buenos Aires. UK National Security advisor Mark Sedwill will also meet the visiting Argentine official.