Parliament emergency debate on abortion for Northern Ireland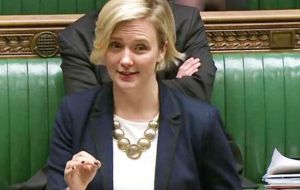 Parliament in the United Kingdom have won permission for an emergency debate on the abortion law in Northern Ireland. Members from throughout the House - including government ministers - stood to back Labour MP Stella Creasy's call for a debate. She told MPs the impact of the Irish referendum had been "felt around the world" and had "thrown a spotlight on the situation in Northern Ireland
Speaker John Bercow granted a three-hour debate to take place on Tuesday.
Following last month's Irish referendum result, Northern Ireland will soon be the only part of either the UK or Ireland where abortion is illegal unless there is a serious risk to a woman's life or health.
There have been calls for the UK Parliament to legislate for abortion reform in Northern Ireland in the absence of a functioning devolved government.
Ms Creasy wants the Offences against the Persons Act 1861 to be repealed, saying this would remove a block to abortion law reform in Northern Ireland. Her debate will not change the law but will give MPs a chance to air their views.
Earlier Theresa May met Conservative MPs pressing for changes to Northern Ireland's abortion laws amid calls for an emergency debate on the issue. She met ex-ministers Amber Rudd, Maria Miller and Justine Greening, as well as women's minister Penny Mordaunt.
The PM has so far resisted calls to act in Northern Ireland following last month's landslide vote in the Irish Republic to liberalize its own laws. No 10 says it should be dealt with by Stormont once devolution is restored.
"We recognize there are strongly-held views on all sides of the debate in Northern Ireland and that's why our focus is on restoring that democratically accountable, devolved government," Downing Street said after the meeting.
The Democratic Unionist Party, on whom Mrs. May relies for her parliamentary majority, opposes changes to abortion law in Northern Ireland. On Monday its leader Arlene Foster said some nationalist voters backed its stance.