Walmart leaving Brazil after 22 years: 80% takeover by Advent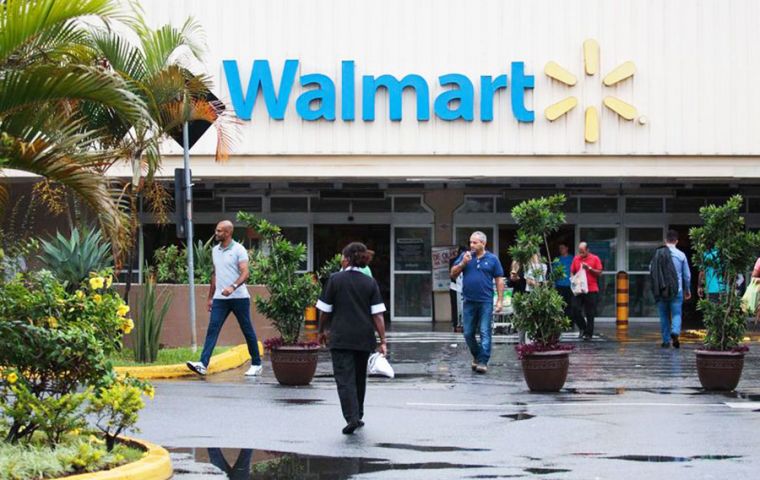 Walmart gave no price for the transaction, in which Advent takes an 80% stake in Walmart Brazil and leaves Walmart with 20%. But the Arkansas-based mega retailer said it would take a US$ 4.5 billion charge on the deal in the second quarter, much of that related to cumulative foreign exchange losses.
Walmart's Brazilian operation started up 22 years ago and employs 55,000 people in 438 stores.
Shares in Walmart rose more than 2%, with analysts saying the deal allows the company to focus on more promising markets.
Walmart spokesman Randy Hargrove said the retailer will not receive payment for the unit but could receive up to US$ 250 million from Advent based on the unit's performance. Walmart does not disclose detailed financial statements for Brazil.
The Bentonville, Arkansas-based retailer is trying to catch up with competitors ranging from grocer Aldi Inc to Amazon.com Inc in key markets. Walmart's underperforming international business made up less than one-quarter of total revenue of US$ 500.3 billion in fiscal 2018.
In an effort to fix its international performance, Walmart Chief Executive Doug McMillon in January appointed Chief Operating Officer Judith McKenna to run the international unit.
Walmart recently sold a majority stake in its UK arm ASDA to J Sainsbury Plc and paid US$16 billion for a majority stake in Indian e-commerce firm Flipkart.
Steven Roorda, portfolio manager with Minnesota-based Stonebridge Capital Advisors and holds Walmart shares, said the retailer has struggled outside North America and "CEO McMillon (is) picking markets that he thinks he can scale and win in."
The move is credit positive as it allows Walmart to make investments in places that have more long-term potential, said Moody's retail analyst Charlie O'Shea.
Walmart had been looking for buyers for its Brazilian business and sounded out possible investors last year but received no interest from rival retailers, according to a source.
Walmart entered Brazil in 1995 and had grown into the country's third-largest retailer following two major acquisitions in 2004 and 2005 and a period of rapid store expansion that came to a halt in 2013.
It operates 471 stores in Brazil, according to the company's local website. The Brazilian unit reported sales of more than US$25 billion Brazilian real (US$6.68 billion) in 2017.
Walmart has posted operating losses in Brazil for seven straight years after the aggressive, decade-long expansion left it with poor locations, inefficient operations, labor troubles and uncompetitive prices.