Brazil declared by OIE free of FMD with vaccination
Wednesday, June 6th 2018 - 08:32 UTC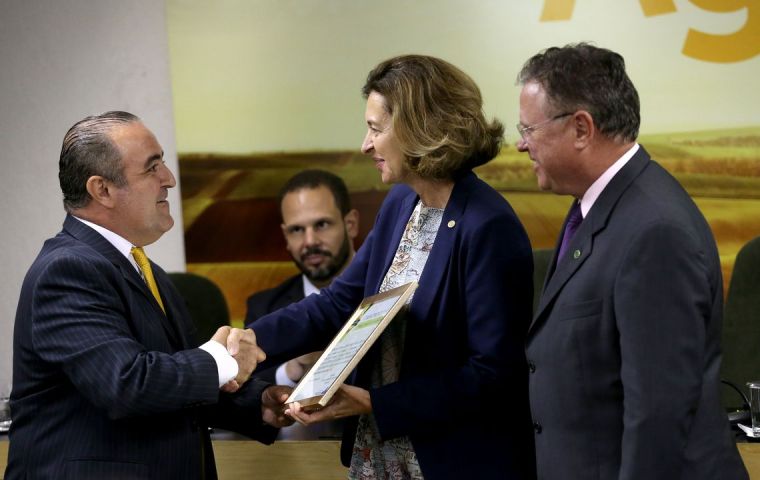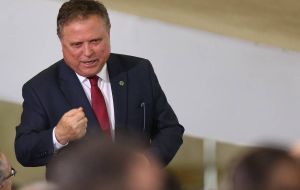 The World Organization for Animal Health (OIE) has officially declared Brazil as a country free from Foot-and-Mouth Disease (FMD) with vaccination. The decision for this occurred late May, in Paris. The decision took place after approval last year from the OIE's scientific committee, which is constituted by 181 member states.
None of Brazil's 26 states have registered any case of FMD since 2006. Nevertheless, the northern region, including the Amazon rain forest, had not been recognized until now. Santa Catarina, in the south and a well-known state for pig production, so far was the only exception, even having been declared 'free from FMD without vaccination' ten years ago.
Director general Monique Eloit delivered the health certificate to Blairo Maggi, Brazil's minister of Agriculture, Livestock and Food Supply at the OIE headquarters.
In a speech at the opening of the 86 session of OIE, Maggi called the recognition "the victory of a long and hard trajectory of much dedication of cattle ranchers and the Brazilian official veterinary sector."
It was a huge challenge that has been ongoing for fifty years. Brazil has over 8.5 million square kilometers and 16,800 km of land frontiers.
Maggi underlined the importance of the agricultural sector for the Brazilian economy, positively influencing the trade balance, generating employment and income, and contributing to inflation control and improving living conditions.
In 2017, Brazilian livestock represented a gross production value of an estimated US$ 60 billion. Meat sector's exports alone grew by 8.9%, reaching US$ 15 billion.
"And we still have the potential to grow much more in the international market because we export only a small part of our cattle and pork production", said Maggi.
Brazil annual production of pork is 3.7 million tons, and exports less than 20% of this amount. Brazilian exports have been increasing since 2014, averaging 700.000 tons annual, with a slight 5% drop last year.
And the next step according to Brazilian farmers is to reach the status of "country free from FMD without vaccination". So far besides Santa Catarina, Brazil's main pork exporting state, three other states, Rio Grande do Sul, Paraná and São Paulo, are on their way to achieve that status as well.
Marcelo Lopes president of Brazilian Pig Producers said, "It is very important news for exports, because it makes Brazil stronger in negotiations. We already dealt with Classical Swine Fever and, now we are working for FMD without vaccination. We are taking large steps. Our sanitary status will contribute to more stability in our sector."