Venezuela closer to being suspended from OAS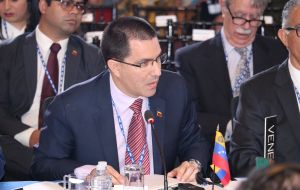 The Organization of American States (OAS) on Tuesday passed a resolution to call an extraordinary assembly to vote on suspending Venezuela from the 34-member group after President Nicolas Maduro's widely condemned re-election last month.
The OAS's general assembly in Washington voted, with 19 member states in favor, four against and 11 abstaining, to take the first step to suspending Venezuela.
Maduro won a May 20 vote that the Venezuelan opposition, along with the United States and other Latin American nations, have decried as a sham cementing a dictatorship which has devastated a once-prosperous economy.
+
"I'm glad we are recognizing that democracy matters. We will not recognize illegitimate governments," Carlos Trujillo, the U.S. representative to the OAS, told the assembly after the vote.
It's a great day for the OAS ... Our hope is that this brings freedom to the Venezuelan people," he said.
Venezuelan Foreign Minister Jorge Arreaza said Venezuela rejected the assembly's decision and it would enable the United States to continue its "economic war" against Maduro's socialist government.
"Those that have supported this are supporting the possibility of a military intervention in Venezuela. Let that be on your conscious," he said.
Maduro calls the OAS a pawn of U.S. foreign policy and last year his government said it had started the two-year process to pull out of the organization.