Highest rejection level to leaving the EU, records latest UK opinion poll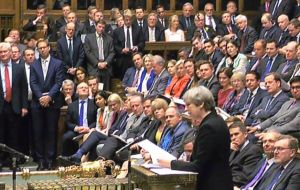 Disagreement with Britain's decision to quit the European Union has reached its highest point since the 2016 Brexit referendum, according to a new UK poll. The YouGov survey found 47% of voters thought the decision to leave was wrong, against just 40% who said it was the right thing to do – the widest margin since the weekly survey began two years ago.
The findings come a week ahead of a series of crunch votes in the House of Commons, as Prime Minister Theresa May seeks to overturn changes to her flagship Brexit legislation introduced in the Lords.
Without an overall majority in the Commons, the PM is expected to spend the coming days trying to sweet-talk and strong-arm potential rebels who could inflict defeat on some of the UK Government's key Brexit positions.
Mrs. May's decision to squeeze Commons consideration of the 15 Lords amendments to the EU (Withdrawal) Bill into a single 12-hour day on June 12 provoked an angry reaction on the opposition benches.
Labour industry spokeswoman Chi Onwurah branded it "astounding", accusing the Government of "showing its contempt for democracy, our future economy and parliamentary sovereignty", while the Scottish National Party's Drew Hendry said the timetable was driven by "Tory self-interest".
Among the changes backed by peers are a requirement to negotiate a future customs union arrangement and a "meaningful role" for Parliament after the exit talks are complete.
Brexit negotiations were resuming in Brussels, with officials discussing remaining issues in the UK's withdrawal agreement, including the status of the border between Northern Ireland and the Republic.
But with the Cabinet seemingly deadlocked on the Irish issue, there was speculation that a White Paper spelling out the Government's Brexit plans in detail may not appear before the upcoming EU leaders' summit on June 28-29.
The 47% who told YouGov the Brexit decision was wrong was up three points on last week and equaled the highest figure since the tracker poll began in August 2016. The 40% saying the decision was right was down three points since last week and the lowest yet recorded.
Some 73% of Labour voters and 83% of Lib Dems said the Brexit decision was wrong, while 69% of Conservative voters said it was right. Some 81% of those who backed Leave in 2016 said they still believed it was the right decision, with 9% now saying it was wrong.
A majority (62%) said the Government was handling Brexit negotiations badly, against 23% who thought it was doing well.
Those backing the Brexit decision have outnumbered those who think it was wrong in the regular survey on only one occasion since July 2017. YouGov interviewed 1,670 voters for The Times weekly tracker poll on May 28 and 29.