Theresa May confirms her trip to Argentina next December for the G20 summit
Thursday, June 7th 2018 - 08:08 UTC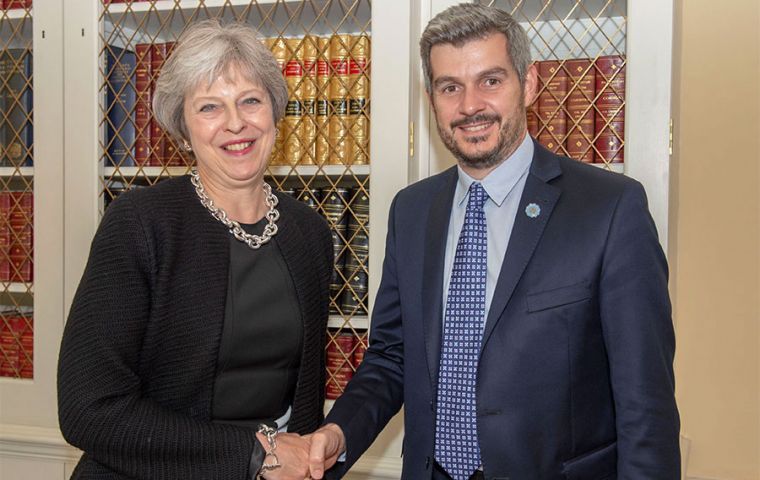 UK Prime Minister Theresa May confirmed on Tuesday to Argentine cabinet chief Marcos Peña that she will be attending the G20 summit scheduled for next December in Buenos Aires. Mrs. May turned up at an office where her principal private secretary Peter Hill was holding a meeting with Peña at 10 Downing Street.
In a brief exchange, including a photo, the Prime minister said she was looking forward to her trip to Argentina, where she is expected to meet with President Mauricio Macri who currently holds the presidency of the G20. Mrs. May gesture was seen as a very significant signal since the Prime minister is fully involved in preparing a vital presentation in the House of Commons to lift a raft of amendments to the EU withdrawal bill voted in the House of Lords.
Cabinet chief Peña was on a two-day visit to London where he honored the Falklands/Malvinas conflict fallen at St Paul cathedral and later held meetings with several ministers, academics, media and potential investors, ending the round on Tuesday at 10 Downing Street.
"I came to London to ratify the president Macri administration's determination to advance in all the possible free trade agreements and economic integration we can achieve", admitted Peña who added that he was repeatedly asked by officials and investors how the Argentine government plans to overcome the challenges of transforming the economy that are still pending.
At Chatham House seat of the Royal Institute of International Affairs in London and speaking in English, Peña gave a conference on political changes in Argentina and "an open agenda for a sustainable global economy".
He emphasized that the current constructive attitude towards the UK was based on the gradualism which has marked the Macri administration, and which "is not at risk", and insisted that the message was very clear: "we intend to work jointly with the UK strengthening our bilateral relation in the framework of our insertion in the world".
Likewise in what was interpreted as a message to the Falklands, Peña said "we are a government which promotes peace, dialogue and integration, and this should represent relief".
Further on he admitted that despite being "a country of contradictions", the same day Macri vetoed a bill freezing utility rates, Congress also passed antitrust legislation, and underlined that the Argentine central bank was well prepared to ensure a monetary system that was stable and sustainable.
Finally Peña said that those who believe that 2019 is going to be a difficult election for the ruling coalition to win, these "are mere speculations". Argentines don't want a return to the past, indicated the cabinet chief and recalled that it was the first time in the country's history that an outgoing president (Cristina Fernandez) did not attend the taking office of her successor, (Mauricio Macri).-