Temer denies any risk of a currency crisis; Central bank pledges "all the necessary liquidity"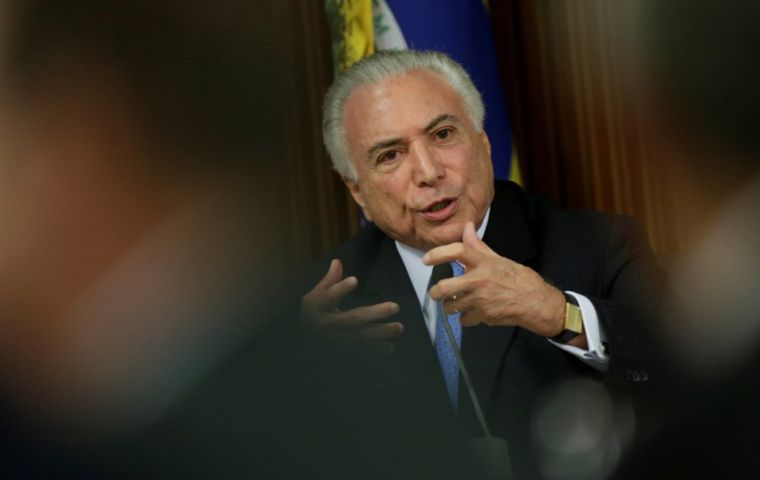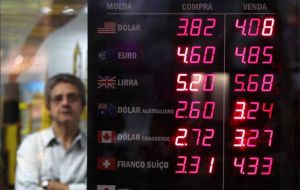 Brazilian President Michel Temer said on Thursday there was no risk of a currency crisis in Latin America's largest economy despite sharp falls in the exchange rate, while the central bank chief pledged to maintain the bank's intervention in the market.
The Brazilian Real plummeted to its weakest level in more than two years on Thursday, at 3.9671 to the dollar, amid concerns over the country's fiscal outlook and uncertainty surrounding October's wide-open presidential election to select a successor to market-friendly Temer.
Brazil's benchmark Bovespa equities index also fell, declining as much as 6.5% before recovering some ground.
Investor confidence in Temer's government was shaken after it was forced to reinstate costly fuel subsidies following a strike by truckers that brought the country almost to a halt.
The move stirred concerns among investors over government finances as the economy struggles to gain momentum after a painful recession. Temer had made tackling Brazil's hefty budget deficit a priority for his center-right administration.
"We are very committed to a budgetary adjustment. The fiscal question is completely under control," Temer told state television TV Brasil. "There is no risk (of a currency crisis). It is normal: The dollar is swinging around a lot."
Temer said part of the strong moves in currency markets was due to the prospect of higher interest rates in the United States, which has affected several emerging market economies. He acknowledged that Brazil's presidential election was also concerning investors, but said that whoever was victorious would need to continue with his government's fiscal reforms.
Central Bank Governor Ilan Goldfajn, meanwhile, pledged to continue providing liquidity to the foreign exchange and interest rate markets "as long as needed."
Goldfajn told a news conference that the central bank would offer up to US$ 20 billion in currency swaps through the end of next week. He did not exclude using Brazil's foreign reserves to intervene in the currency spot market.
"All instruments are valid," he said. "For now, it seems liquidity is needed through currency swaps. If the situation changes, if there is demand, we may use reserves."
Goldfajn ruled out any extraordinary meeting of the bank's monetary policy committee to take action on interest rates, noting that inflation expectations remain within the bank's targets.
"I would like to stress that monetary policy is separated from exchange rate policy. There is not a mechanical relationship between them," he said. "Monetary policy...will not be used to control exchange rates."
Goldfajn said he would remain in office until the conclusion of Temer's government at the end of this year.