UK Overseas Territories to host Student Conference in London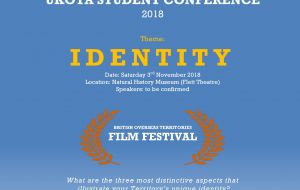 Students from the UK Overseas Territories are being invited to submit minute-long videos about their territory and its 'Identity' as part of an event to be hosted at the Natural History Museum in London in November 2018. This will be the third event of its kind organised by the UK Overseas Territories Association (UKOTA), after events in late 2015 and 2017 hosted at University College London and the London Maritime Museum respectively.
The event looks to bring UK-based students together from across all of the eleven UK Overseas Territories who have students currently studying in the UK. A total of 160 students attended the first two events and it is hoped that similar numbers will be seen at the Natural History Museum. The famous central London venue is sure to be a draw for many, especially as it is home to a range of stored flora and fauna from territories themselves. Due to the limited size of many territories, it is not unusual for students to attend studies in the UK, with hundreds of Overseas Territories students being spread across the UK at any one point.
Themes for previous events have focused on the sustainable development of the Territories and also the potential impact of Brexit on them. This year the theme is to highlight the unique and varying identities of the different territories. This is to be done via a planned schedule of talks as well as a mini film festival, with students being asked to submit short videos on this theme. The videos are likely to cover a range of subjects such as environment, culture, landscape, history and industry. Talks are likely to come from a range of individuals, including academics, representatives and politicians.
Whilst the event has a serious purpose in terms of looking to raise cross-territory awareness and understanding amongst students, it is also meant to be a fun day out in London for attendees and to provide a healthy break from their studies. The event is intentionally interactive and looks to engage students from across all Territories.
Most UK Overseas Territories have offices in London and their Representatives in London will likely attend the event. The group coordinating the event is Chaired by the Falkland Islands Deputy Representative in London, Michael Betts, and includes representatives from a number of territories. UKOTA has been in existence for almost 25 years with a membership including such Territories as Bermuda, Cayman, Gibraltar, Falklands and Turks & Caicos, amongst others. The organisation actively collaborate on issues of interest across territories and often work together to provide a collective view on issues to the UK Government.