Trump and Kim sign a "comprehensive" document at historic summit
Tuesday, June 12th 2018 - 07:55 UTC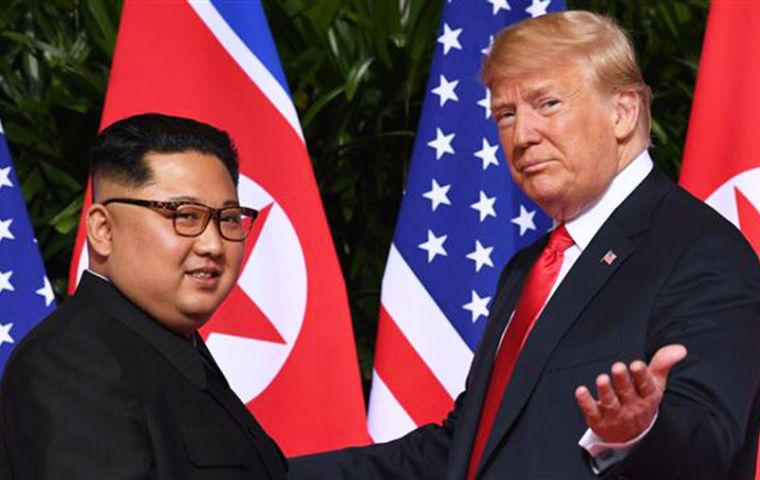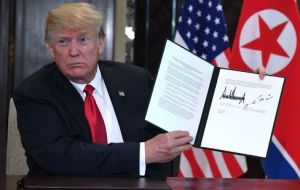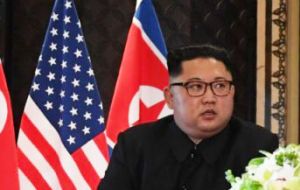 US President Donald Trump and North Korean leader Kim Jong-un signed in Singapore on Tuesday a "comprehensive" document following a historic summit aimed at the denuclearization of the Korean peninsula. They posed for a handshake, smiling cautiously, as they began the first ever summit between a North Korean leader and a sitting US president.
After their meeting, Mr Trump said "a lot of progress has been made," and they sat down to sign a document, without giving further details. Mr Trump told reporters the document was "pretty comprehensive" and the North Korean denuclearization process would be starting "very quickly".
He added that he had formed a "special bond" with Mr Kim and the relationship with North Korea would be very different. This is going to lead to more and more and more".
Asked whether he would invite Mr Kim to the White House, Mr Trump said: "Absolutely, I will." He also called Mr Kim "a very worthy, very hard negotiator" and "a very talented man" who "loved his country very much".
Mr Kim said the leaders "decided to leave the past behind" and "the world will see a major change". He added, "I would like to express my gratitude to President Trump to make this meeting happen. Thank you".
Mr Kim's convoy left Sentosa Island in the afternoon after he signed the document with Mr Trump, who stayed behind at the hotel where the two leaders met. Trump is due to give a news conference at 5:30pm.
Both men looked serious as they got out of their limousines at about 11:00am (AEST) for the summit at the Capella Hotel on Singapore's Sentosa, a resort island with luxury hotels, a casino, manmade beaches and a Universal Studios theme park.
But they were soon smiling for photos and exchanging pleasantries.
"Nice to meet you Mr President," Mr Kim said as he sat alongside Mr Trump, against a backdrop of North Korean and US flags, beaming more broadly as the US President gave him a thumbs-up.
"I feel really great. We're going to have a great discussion and will be tremendously successful," Mr Trump said. "It's my honor and we will have a terrific relationship, I have no doubt."
Mr Kim replied: "It was not easy to get here … there were obstacles but we overcame them to be here."
The two then headed away for what were expected to be one-on-one talks, with translators only. They emerged about forty minutes later before moving onto a meeting involving top diplomats from both sides.
Mr Trump had said on Saturday he would know within a minute of meeting Mr Kim whether he would reach a deal.
After the meetings, the two teams and other senior officials met for a working lunch, where beef short ribs, sweet and sour pork and "Daegu Jormin", or Korean braised cod, were served for the main course, according to the menu.
As the cameras captured the moment, Mr Trump quipped: "Very nice. Getting a good picture everyone, so we all look nice and handsome and thin … perfect."
The leaders emerged again after lunch and strolled together down a paved walkway before stopping and posing before the waiting news media.
"We had a fantastic meeting, a lot of progress," Mr Trump told the reporters. Before heading to the signing ceremony, Mr Trump also gave Mr Kim a rare peek inside the US presidential limousine nicknamed The Beast.
The working lunch was the final official event scheduled for the leaders before they go their separate ways.
Trump is scheduled to address the press corps and then begin the journey back to Washington. The summit is the first between a North Korean leader and a sitting US president.