US opens new US$ 250 million de facto embassy in Taipei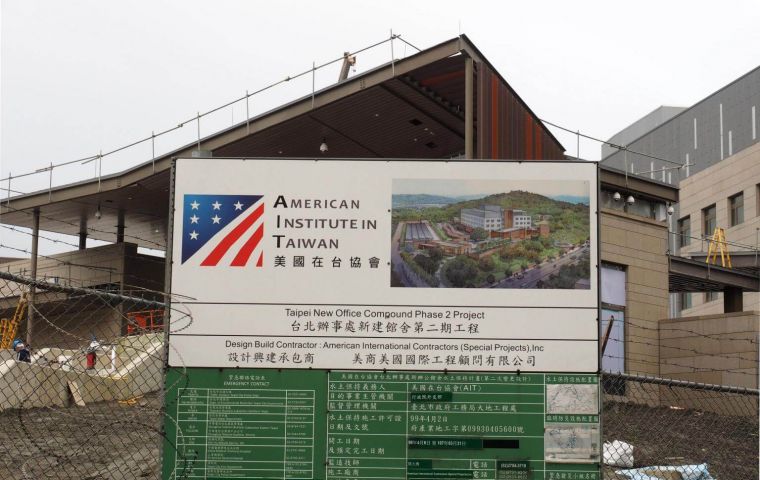 While the world watches the summit between president Donald Trump and Kim Jong Un unfold, another significant event will take place elsewhere in Asia. On June 12 in Taipei, Taiwan and the US will jointly mark the establishment of a new facility for the American Institute in Taiwan (AIT), the US's de facto embassy in the country. Politicians from both nations are attending a ceremony to commemorate the US$ 250 million complex, which will open formally later this year.
The event underscores the deepening ties between the current US administration and Taiwan, as China attempts to cut off Taiwan's diplomatic reach. And even though its concurrent timing with the Trump-Kim summit is coincidental, observers are still watching it to gauge how the US might stand up to China's claims on the island.
The US, like many other countries, holds no formal diplomatic relations with Taiwan. That's largely because Beijing forces the international community to form ties with either the People's Republic of China (commonly referred to as "China") or the Republic of China (commonly referred to as Taiwan). The rift dates back to the late 1940s, when the then-ruling Kuomintang (KMT) regime fled the mainland to the island in the late 1940s during a civil war with the Chinese Communist Party (CCP). Since then, Taiwan has evolved into a self-governing democracy, but Beijing considers it part of its own sovereign territory.
In the face of this rift, the US still maintains ties with Taiwan through "unofficial" channels like AIT. It also supplies it with arms. Trump, meanwhile has appointed several proponents of better US-Taiwan relations since taking power. National security advisor John Bolton, assistant secretary of defense for Asian and Pacific security affairs Randall Schriver, secretary of health and human services Alex Azar, and White House trade aide Peter Navarro have all supported deeper ties with the island country. In March Trump signed the Taiwan Travel Act, a non-binding bill that encourages senior officials from both countries to visit one another.
Over the past several months, global companies like Marriott, Zara, and Qantas issued public apologies after Chinese authorities reprimanded them for referring to Taiwan as an independent country on their websites. And since Tsai Ing-wen assumed Taiwan's presidency in 2016, Taiwan has lost five diplomatic allies to China.
According to Jonathan Sullivan, director of the China Policy Institute at University of Nottingham, it's possible that the Trump administration has prevented its highest figures from attending the ceremony in order to ensure Beijing cooperates with the US's attempts to denuclearize North Korea.
"Neither the US nor Taipei want to unnecessarily provoke a reaction from China, which is, for good reason, hypersensitive to American support for Taiwan," he says. However, Sullivan adds, the new facility's mere existence serves as an important symbol, regardless of who ultimately attends its opening ceremony: