Argentine president Macri was detected a benign pancreatic cyst: "a treatment is not necessary"
Thursday, June 14th 2018 - 22:11 UTC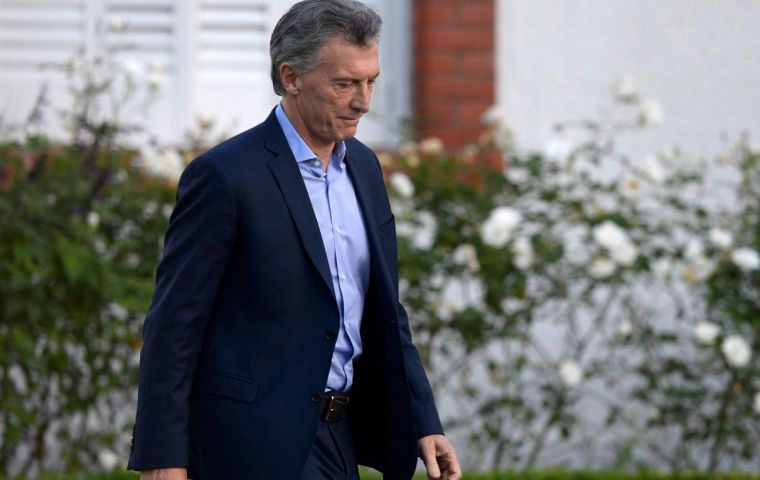 Argentine president Mauricio Macri was detected a benign cyst in the pancreas, according to an official release from the Executive Office. The condition was discovered during a routine medical checkup last 23 May and following clinical studies including a magnetic resonance, the diagnosis was confirmed but a treatment is not necessary, although he will continue under medical monitoring.
"An abdominal ultrasound scan showed the existence of a pre-existent pancreatic cyst. Following a magnetic resonance the diagnosis was the same, so it is not necessary to perform any treatment", said the brief statement.
Macri originally underwent blood and urine tests, an ergometry and a general ultrasound scan. That is when the existence of the cyst was first detected. All other tests resulted satisfactory.
Dr Hui Jer Hwang, a pancreas expert in one of Buenos Aires leading private clinics said that in most cases, "cysts in the pancreas are tumor cysts, although there is also the 'pseudo-cyst', consequence of an acute pancreatitis and it is not tumor".
Pancreas tumors can be solid (a mass, in most cases malign), and cysts basically are a bubble of fluid encapsulated in the organ's wall. These are mostly benign and it is sufficient to monitor them; the least can potentially become malign.
Apparently president Macri's situation according to the published diagnosis refers to the description of a benign cyst. People can live with this kind of cyst, with regular monitoring, unless they become malign, and then surgery, when possible, can turn out to be complicated.
The Mayo Clinic site describes pancreatic cysts as saclike pockets of fluid on or in the pancreas, a large organ behind the stomach that produces hormones and enzymes that help digest food.
Most pancreatic cysts aren't cancerous, and many don't cause symptoms. They're typically found during imaging testing for another problem. Some are actually noncancerous (benign) pockets of fluids lined with scar or inflammatory tissue, not the type of cells found in true cysts (pseudocysts).
But some pancreatic cysts can be or can become cancerous. A sample of the pancreatic cyst fluid can be taken to determine if cancer cells are present. Or monitoring a cyst over time for changes that indicate cancer is recommended.
Symptoms from pancreatic cysts are often found when imaging tests of the abdomen are done for another reason. When signs or symptoms of pancreatic cysts do occur, they typically include: Persistent abdominal pain, which may radiate to your back; A mass you can feel in your upper abdomen; Nausea and vomiting.