Miami media says US$ 800 million in assets of Diosdado Cabello frozen in the US, but he flatly denies the version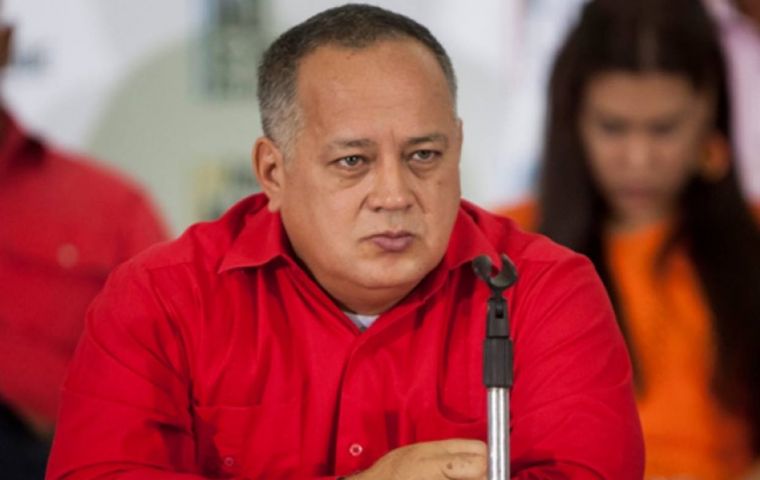 The U.S. government has frozen about US$ 800 million in assets from senior Venezuelan leader Diosdado Cabello Miami journalist Oscar Haza reported Tuesday during his morning radio show on Miami's Spanish-language Zeta 92.3.
Haza, who said his information came from "important sources" in the Trump administration, also said that Cabello's daughter, Daniella Cabello, was turned away when she flew to the United States and was put on a plane to Caracas. He did not specify when.
Venezuela has been engulfed in economic and political turmoil under the regime of President Nicolas Maduro. Cabello is one of the top leaders in the troubled country.
"A total of US$ 800 million has been seized and proven to belong to Diosdado Cabello," Haza reported on his radio program. "That could cover about two months of Venezuela's debt service payments."
Among the 12 seized properties is a luxury apartment on New York City's Central Park, Haza added. The information could not be confirmed independently by Miami's El Nuevo Herald, but the Trump administration a few weeks ago put Cabello on the Treasury Department's blacklist, which in essence allows officials to freeze his U.S. banks accounts and property sales.
Treasury accused him of corruption, narco-trafficking and mineral smuggling, but Cabello flatly denied Haza's version from Caracas on Twitter.
"The right, in its desperate effort to create and believe its own lies, now is including my daughter. According to their news media, from Diosdado Cabello the United States took away US$ 800 million and deported Daniella. Another lie, another infamy. We will overcome!" Cabello tweeted in Spanish.
"How lacking intelligence would I be if at this point I would have US$ 800 million in the United States and that in addition I would expose my daughter to travel to that country... A little more imagination, lords of lies. Make the effort of thinking please," he added.
Cabello, former president of the Venezuelan legislature, was upset by treatment of his daughter when she landed at John F. Kennedy International Airport in New York. U.S. Immigration and Customs Enforcement officials told her that her visa had been canceled and put her on a plane to Venezuela, Haza said.
The confiscations of Cabello's properties are part of U.S. government efforts to identify and freeze the wealth of Maduro regime officials linked to corruption and drug trafficking
Cabello was sanctioned last month along with his brother, Jose David, his wife Marleny Josefina Contreras, and his business partner, Rafael Sarria.
"Aside from money laundering and the illegal export of minerals, Cabello is also directly involved in drug trafficking activities," the Treasury statement said, announcing his addition to the sanctions list.