IMF report warns Trump administration on trade, tariffs and budget deficits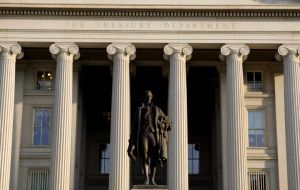 The International Monetary Fund said on Thursday that tax cuts will help fuel the U.S. economy this year and next. But it warned that growth after that will slide to levels just half of what the Trump administration is forecasting.
In its annual assessment of the U.S. economy, the 189-nation IMF released a critical report that warned of adverse consequences from a number of administration policies, including its plans to impose punitive tariffs on major U.S. trading partners in an effort to reduce America's huge trade deficits.
IMF Managing Director Christine Lagarde said that a trade war "gives no winner and we find generally losers on both sides."
She encouraged the United States to "work constructively" with its trading partners to resolve disputes, refrain from imposing tariffs and avoid a tit-for-tat trade war in which other nations retaliate by enacting tariffs on U.S. products.
"The negative impact on the global economy would be serious," Lagarde told reporters at a briefing.
The IMF report marked the harshest assessment the lending agency has ever produced assessing the economic policies of its largest member country. It elicited a quick response from the Trump administration.
"We differ significantly on the medium term and long-term projections, The Treasury Department said. "The Treasury Department believes our policies, including the productivity-boosting mix of tax reform and regulatory relief, will result in more sustainable economic growth."
Lagarde said the IMF believed the administration's economic policies could result in higher trade deficits in the near-term by driving up U.S. domestic demand and making the dollar stronger. A stronger dollar makes imports cheaper for U.S. consumers while making U.S. exports more expensive on overseas markets.
She said the tax cuts, which would lead to a higher budget deficit, could result in a faster rise in inflation that would force the Federal Reserve to push interest rates up more quickly. That might result in increased instability in U.S. and global financial markets.
The IMF projected U.S. growth will hit 2.9% this year and 2.7% next year. Both are significant increases from last year's 2.3% expansion. However, after an initial boost from the US$ 1.5 trillion tax cut package, the IMF forecasts growth will slow steadily in future years, dropping to 1.4% in 2023.
The IMF report was highly critical of Trump's trade policies in particular. The administration has imposed punitive tariffs on a number of countries to slow imports of steel and aluminum and has threatened to raise tariffs on up to US$ 150 billion in Chinese goods in response to complaints about China's trade surplus and technology policies. The administration is expected to release a list of US$ 50 billion in Chinese goods that will be targeted on Friday.