Argentina shores the Peso, stock market tumbles, ahead of 'Super Tuesday'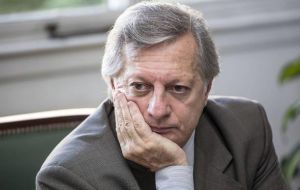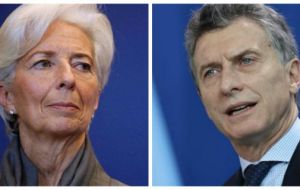 Argentina's peso rose sharply on Monday as a new central bank chief took his first moves to shore up the battered currency, while escalating fears of a damaging trade war between the United States and China drove Latin American stocks down. The Argentine peso jumped after the central bank said it will hike bank's reserve requirements in a move expected to tighten local-currency liquidity after the latest run on the peso.
Argentina's benchmark stock index tumbled on Monday by more than 8% in it its biggest one-day percentage loss since December 2014. Traders said stocks were pressured by speculation that index provider MSCI would not upgrade Argentina to its emerging markets category later this week, as many have hoped.
The Merval Index dropped 8.33% to 27,636 points, with energy stocks taking hits of up to 12% following the departure of Energy Minister Juan José Aranguren from the government. Bank stocks tumbled on the reserve requirement announcement, with Grupo Supervielle SA falling 12.8% and Banco Macro SA closing down 11.2%.
Analysts also cited rumours that Morgan Stanley may opt not to include Argentina in its Emerging Markets index (MSCI Emerging Markets Index) for another year. If approved, altering the country's stance from a 'Frontiers' market, more investment is anticipated. On Monday, the Clarín newspaper reported that Argentina's "ascent" would be postponed for another year. A decision is expected Wednesday.
The government of President Mauricio Macri and the International Monetary Fund (IMF) announced in early June that the two parties had agreed a US$50-billion standby loan. The government is seeking to help to bolster market confidence following a currency crisis in April and May. The first US$ 7.5bn is expected on Wednesday.
Last week President Macri replaced Central Bank head Federico Sturzenegger with the former finance minister, Luis Caputo, a former Deutsche Bank executive. Caputo's main task is to prevent a run on the peso, which has lost nearly 35% of its value since January.
The stock market drop comes on the eve of a "Super Tuesday," the date when Central Bank's debt – equivalent to nearly one third of its reserves – is renewed. If investors do not renew the debt, there is likely to be an increased demand for the US greenbacks, making the peso less valuable.
Argentina's country risk, a measure of the spread between its bond yields and bonds issued by other countries, rose 18 points on Monday to 569, a sharper increase than other emerging markets.
On Monday, the Central Bank said it would lift reserve requirements for banks by five percentage points in a move expected to absorb 100 billion pesos (US$3.63 billion) from the financial system. These would be staggered, with three extra percentage points having to be in place by June 21 and two more by July 18. Banks are currently required to keep 20 percent of deposits in reserves.
On Saturday Macri dismissed two Cabinet ministers, Aranguren, the former president of Anglo-Dutch oil company Shell in Argentina, and production minister Francisco Cabrera.
Macri was forced to defend Aranguren in March after the minister admitted keeping his US$88-million fortune abroad because he lacked faith in the domestic economy. Javier Iguacel – previously the head of the agency that oversees Argentina's road network – replaced him in the post. Iguacel is expected to introduce a more moderate scheme of tariff adjustments than Aranguren.
Speaking Sunday, newly appointed Production Minister Dante Sica said that an exchange rate of between 28 and 29 pesos per dollar would be "comfortable" for the industrial sector. Sica, an economist by trade, told the La Once Diez radio station that such a rate would provide firms with "predictability."
Stocks markets also fell throughout Latin America on worries about trade friction between the world's top two economies.
The United States on Friday detailed US$ 50 billion of Chinese imports to face 25% tariffs. The move prompted a swift response from Beijing, which said it would sanction US$ 50 billion of U.S. imports and suspend all previous trade agreements with the Trump administration. Trump on Monday again announced his administration was preparing a 10% tariffs on US$ 200 billion Chinese products if Beijing did not back down.
Brazil's main stock gauge lost 1.3% to close at its lowest since last August as Petrobras and lender Itaú Unibanco Holding SA fell sharply.
"After the confirmation of the U.S. protectionist attack, risk aversion is exerting substantial pressure over markets," analysts at Nova Futura brokerage wrote in a client note.
Brazil's real dipped, but Mexico's peso, firmed more than 0.5% as it crept back from its weakest levels since January 2017 seen on Friday. Mexico's central bank is expected to raise its benchmark interest rate on Thursday to a more than nine-year high of 7.75% to counter the peso's slump