Spain receives hundreds of rescued migrants but warns they will be dealt "according to our laws"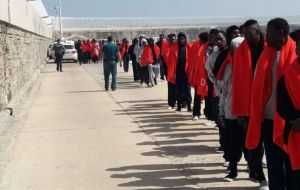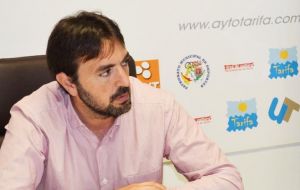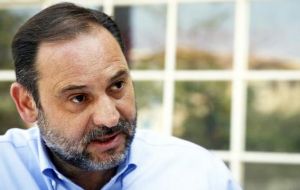 Hundreds of migrants were rescued by Spanish authorities in the Strait of Gibraltar in recent days, with authorities in Tarifa having to equip a municipal gym to accommodate them once on land. With reception centres increasingly under strain, Tarifa's municipal authorities, working alongside the Guardia Civil, the police, the Red Cross and the Spanish maritime rescue service, have again stepped up to give the migrants shelter and ensure their basic needs are met.
At its peak last Friday, Spanish authorities brought ashore nearly 500 people who were trying to cross the Strait of Gibraltar in small boats. Among them were men, women and children of all ages. But the flow of people continued into the weekend too.
Spain's maritime rescue service pulled 986 people from 69 small boats its rescue craft reached in waters in or near the Strait of Gibraltar between Friday and Saturday. At least 792 migrants have died crossing the Mediterranean so far this year, according to the United Nations.
Through the first five months of 2018, a total of 35,455 migrants reached European shores, with 11,792 of them arriving in Spain. The influx echoes similar circumstances in 2014, when over 1.000 migrants reached the shores of the Campo de Gibraltar in less than 48 hours, placing huge demand on authorities in the area.
"We've known for months that this could happen," Francisco Ruiz, the mayor of Tarifa, told Europa Sur newspaper. "As a council, we are doing what the government is asking of us but also what our citizens demand, which is that we show maximum solidarity."
Last year, some 22,102 migrants crossed the strait in 1,248 boats, an increase of 8000 people over 2016.
The drama in the Strait of Gibraltar unfolded as the Gibraltar-flagged charity ship Aquarius docked in the Spanish port of Valencia after a week-long odyssey carrying migrants around the Mediterranean. The ship, which is operated by aid groups SOS Mediterranee Sea and Doctors Without Borders became a pawn last week in Europe's latest battle over immigration, touched land shortly before 11am Sunday with 106 migrants on board.
An Italian coastguard ship had already arrived in Valencia with 270 of the 630 migrants that the Aquarius saved off Libyan shores more than a week ago. Another Italian navy ship with the rest of the migrants from the Aquarius will arrive later.
Italy and Malta had denied entry to the rescue ship last Saturday. Spain then stepped in and offered to let it dock. It took the convoy nearly a week to travel the 930 miles between Sicily and Spain.
The head of Doctors Without Borders in Spain David Noghera said he was glad that Spain had allowed the convoy to dock but he was worried about European nations closing their ports to those rescued at sea. The migrants include 123 unaccompanied minors, 11 children and as many as seven pregnant women.
Spain's minister of public works Jose Luis Abalos said due to their ordeal, the migrants would be granted a "special authorization" to remain in the country for one month before "they will be dealt with according to our laws without exception".
"Spain will act with sensitivity and at the same time within the law, and with a message to Europe that it doesn't have an immigration policy up to the challenge at hand", said minister Abalos.