Ortega's paramilitary groups on shooting spree against protestors; Church dialogue backed talks collapse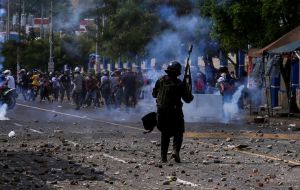 Three people were shot dead in the city of Masaya as security forces and para military groups tried to regain control of the area, a human rights group reported on Tuesday, the two-month anniversary of political unrest that has shaken Nicaragua.
Alvaro Leiva, director of the Nicaraguan Pro-Human Rights Association, said 40 people were also wounded in the clashes in Masaya that came a day after talks on finding a solution to the country's crisis were again suspended.
"In the face of this excessive attack involving incomparable forces, the citizens are putting up a physical resistance within their means because they have to protect their lives," Leiva said.
Beginning early in the morning, forces allied with President Daniel Ortega's government moved to dismantle roadblocks maintained by protesters for over three weeks between Managua and Masaya, which is about 25 kilometers southeast of the capital. They accused the demonstrators of having "kidnapped" the city.
Video images broadcast by local television showed police and para military groups shooting toward people at the roadblocks, and later barricades and tree trunks were removed by heavy machinery.
More than 220 people have died since April 19 amid a heavy-handed crackdown on protests that have broadened to demand Ortega's exit.
The Roman Catholic Church has tried to moderate negotiations on restoring peace, but the talks broke down again this week after the government refused to allow international observers to arrive and verify the human rights situation, as had been previously agreed.
"The people of Masaya have demonstrated their heroism in the darkest pages of Nicaragua's history," Luis Almagro, secretary-general of the Organization of American States, tweeted on Tuesday. He condemned "all manner of attacks" that threaten the lives and safety of the public.
The latest violence coincided with the arrival in Nicaragua of Washington's ambassador to the OAS. The U.S. Embassy said in a statement that Carlos Trujillo planned to meet with Ortega and opposition representatives "to see firsthand the reality of what is happening in Nicaragua".