Ex president Lula faces new charges and must declare next 11 September
Thursday, June 21st 2018 - 12:02 UTC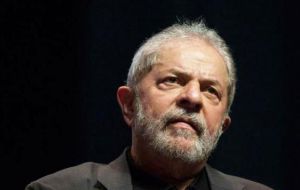 Brazilian federal judge Sergio Moro has summoned ex president Lula da Silva for questioning next 11 September in a case related to reforms made in a camp house, Sitio Santa Barbara, in Atibaia, Sao Paulo state and which was frequently used by the Lula da Silva family.
The former president who is imprisoned in the Federal Police headquarters in Curitiba, together with ex managers of construction giants Odebrecht and OAS are defendants in the case.
The property is part of the Lava Jato major investigation on Petrobras, and it is suspected that the reforms were done and paid by the accused companies.
According to the prosecution investigators reforms in the building began following the purchase of the property by businessmen Fernando Bittar and Jona Suassuna, good friends of Lula, and "the first blueprints were elaborated to comfort the needs of the former president's family".
According to the report elaborated by the Brazilian Federal Police, in 2016, the experts point to some of the reforms among which a kitchen, at a cost of 252.000 Reales (some US$ 85.000). It is estimated that the overall the purchase and reforms added up to 1.7 million Reais (some US$ 600.000), which includes the value of the property 1.1 million Reais and 550.000 Reais in reforms.
The defense of the ex president argues that Lula is not the owner of the property.