NATO chief calls on UK to continue playing a leading role as military power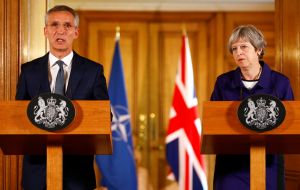 The head of Nato has called on Britain to continue investing in defense amid claims that Theresa May has questioned the UK's role as a leading military power. In a speech in London, Jens Stoltenberg said he expected the UK to continue playing a major international role.
It comes after Downing Street insisted the UK remained committed to being a leading military power following a report that the Prime Minister had asked Defense Secretary Gavin Williamson to justify the country's status as a "tier one" nation.

The Financial Times reported that Mrs May had sent "shockwaves" through the Ministry of Defense after telling Mr Williamson he needed to rethink which capabilities the UK needed for a modern military force.
The Nato Secretary General said the UK was able to play a major role in Nato because it has "full spectrum" defence capabilities and it spends more than 2%.
He said: "I expect the UK to continue and to maintain that role. To maintain that role, you need to spend and invest in defense."
With many of the participants at the G7 due at a Nato meeting next month, there are fears in European capitals that it will become the stage for another transatlantic diplomatic bust-up.
Since the G7, Mr Trump has publicly taunted German Chancellor Angela Merkel over migration while demanding the Europeans contribute more to the costs of their common defence.
Stoltenberg conceded there were "real differences" on trade, the environment and the Iran nuclear deal, but insisted the allies had overcome such differences before and warned it is "in our interests to stand together".
He added: "When it comes to Nato, security and defense, the transatlantic bond is not weakening it is actually strengthening."
A Number 10 spokeswoman said: "It is completely untrue to suggest that our position as a leading defense nation is somehow in question. The PM is strongly committed to the UK's armed forces and to maintaining their strength and ability to deter and, where necessary, defeat the threats we face."
The UK's commitment to Nato "remains steadfast" and "we have the biggest defense budget in Europe and the second biggest in Nato.