Migration could seal the future of the European Union, warns Merkel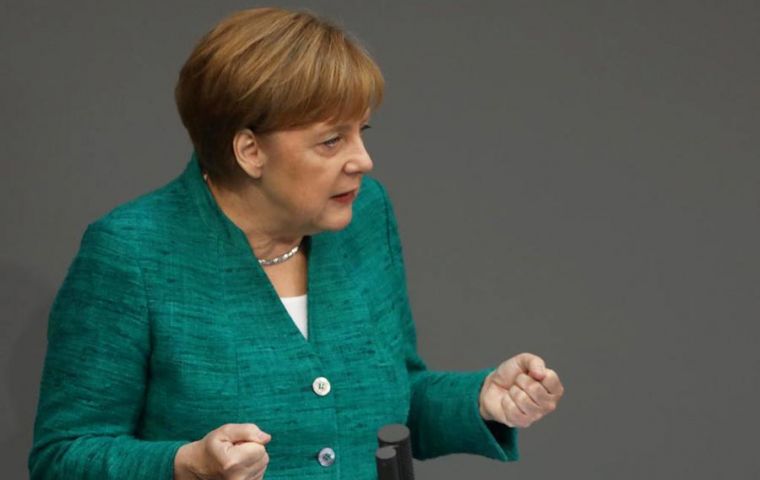 The future of the European Union (EU) rests on the bloc's ability to find a diplomatic answer to the migration crisis, German Chancellor Angela Merkel said on Thursday. EU leaders are meeting in Brussels, Belgium on Thursday and Friday to try to wrangle a solution on migration, with the issue leaving Merkel's own political fate hanging precariously in the balance.
"Europe faces many challenges, but that of migration could become the make-or-break one for the EU," Merkel said during a passionate address to the German parliament.
"Either we manage it, so others in Africa believe that we are guided by values and believe in multilateralism, not unilateralism, or nobody will believe any longer in the system of values that has made us strong… That is why it is so important," she added.
By Sunday, Merkel is hoping to come away from the Belgian capital with a breakthrough over the bloc's three-year migrant crisis. In doing so, it could help to defuse the simmering political turmoil that continues to threaten her coalition government back home.
Merkel became the nominal architect of migration policy back in 2015 when she decided to allow over 1 million migrants into the country as a necessary step to help its European neighbors. This open-door policy has since been fervently criticized by an increasing number of domestic lawmakers, including many within her own ranks.
"Migration is certainly one of the biggest issues for the European Union and member states have not found any real structural long-term solution of how to manage the question," Leopold Traugott, policy analyst at Open Europe said.
Merkel's coalition partner, Bavaria's Christian Social Union (CSU), has given her until the end of the EU summit to alleviate the perceived burden of immigration on Germany. Europe's largest economy has taken in around 1.6 million migrants since 2014.
The CSU is also calling for migrants trying to get into Germany to be sent back to the countries where they entered the bloc, although Merkel remains firmly opposed to such demands.
Yet, while there is not much love lost for the long-time German leader in several European capitals, a number of member states appear poised to throw their support behind her for reasons of self-interest.
"It is quite astonishing actually how the Germans, despite being rather unpopular with some southern EU countries over the last couple of years, now are actually looking like they will receive some help from them," Traugott said.
Ahead of the EU summit, Greece's Prime Minister Alexis Tsipras told the Financial Times that he was ready to reach an agreement with Merkel in order to make it easier for Berlin to send asylum seekers back to other European countries.
Open Europe's Traugott said EU member states had become "incentivized" to find short-term fixes to the migrant crisis in order to stave off the prospect of an EU meltdown. He expected a number of bilateral agreements to be formed over the coming days.
The prospect of a deal with Athens would be a major coup for Merkel, who is desperate to show German voters that progress is being made to deal with an influx of migrants who have entered Europe.
"You also have to see that this is an important crisis for Germany and if Merkel goes home empty handed from this summit… There might be a big crisis looming for the German government (and) another crisis for the European Union as a whole," Traugott said.