Argentine Peso and equities end the week back on skid row
Saturday, June 30th 2018 - 15:49 UTC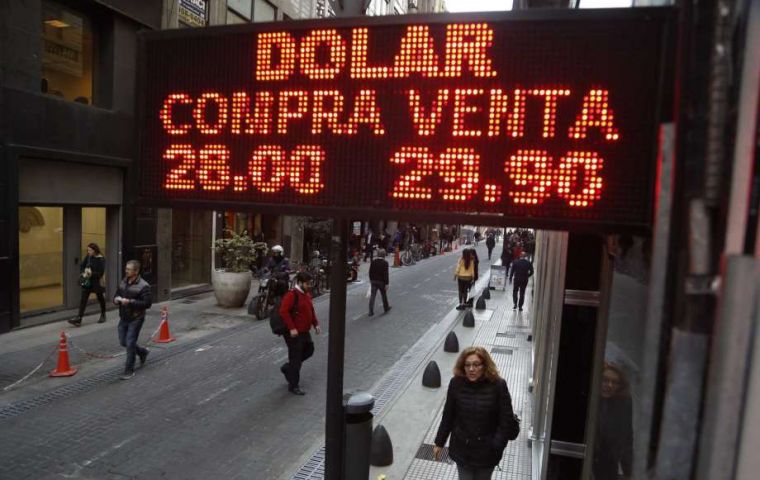 After a week of relative stability, the Argentine peso slid more than 2.5% percent on Friday, as an economic crisis marked by high inflation, wobbly growth and an outflow of capital began to bite again.
The Argentina's peso, like currencies in other emerging markets, has come under pressure from a flight of capital to safe havens in the wake of a string of interest rate hikes by the U.S. Federal Reserve. Argentina's annual inflation rate is running at over 25%.
The central bank sold US$ 300 million on Friday to support the currency.
The US dollar was trading at almost 30 Argentine Pesos on Friday afternoon until it finally closed at 28.85, with a daily depreciation vs the greenback of 2.53%, and overall loss of 35% in the first half of the year.
Likewise the Argentine Merval index dropped 2.8%, despite equities rising across the region. Following an attempted recovery on Thursday, the US dollar uncertainty and negative info from the economy took their toll.
Friday releases of weaker manufacturing and slowing down of the construction industry hit the market, but even more impacting was the apparent radical change in the energy and public utilities policy.
In effect cabinet members apparently sponsor a freezing of public utilities rates, with the burden of power and gas going to distributors. This was interpreted as a "political truce" with the opposition and provincial governors, who even before the current situation faced severe budget shortfalls in their administrations.