Japan wants to change voting rules at IWC to hunt for more whale species
Tuesday, July 3rd 2018 - 08:49 UTC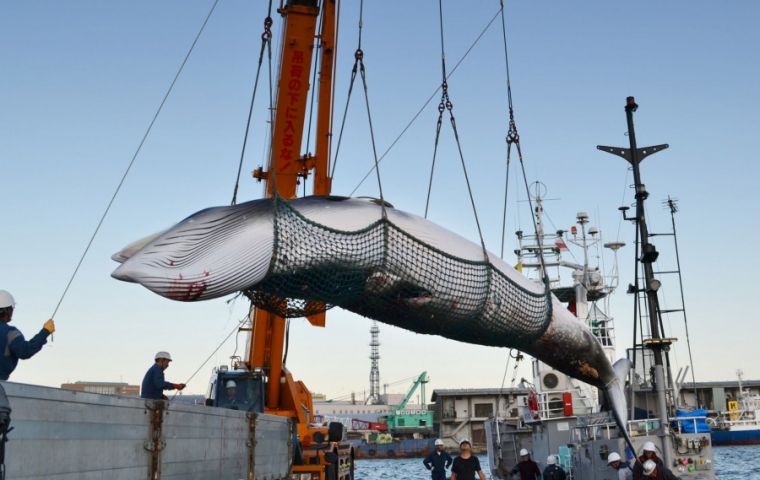 Australia and other anti-whaling nations are seeking a showdown with Japan as Tokyo attempts to resume commercial whaling later this year. Japanese officials have reportedly confirmed the country's attempt to alter voting rules and allow hunting of whale species with "healthy" numbers at an International Whaling Commission (IWC) meeting in Brazil in September.
Australia's Department of the Environment and Energy said it would seek to block any attempt by Japan to resume commercial whaling.
"Australia will strongly oppose any proposals to overturn the moratorium or change the rules for setting catch limits," the department said in a statement to Fairfax Media.
Japan will propose setting "a catch quota for species whose stocks are recognized as healthy" by the IWC, and lowering the proportion of votes to a simple majority of the IWC membership, rather than three-quarters.
In addition to Australia, other anti-whaling nations such as New Zealand and most countries in Europe and South and Central America would object to Japan's plans, according to Fairfax Media.
The global anti-whaling watchdog IWC adopted a moratorium on commercial whaling in 1982. Although Japan agreed to abide by the terms in 1986, its hunters exploited loopholes to continue whaling under the guise of "scientific research."
According to a report released by the IWC, 333 minke whales were brutally slaughtered during Japan's annual hunting season in the Antarctic Ocean last winter. Of the 333 mammals caught during the expedition 128 were female, and 122 of them were pregnant.
Some 114 of the 333 whales caught were not yet adults.
Despite harsh international criticism, the Japanese government continued to claim that the Antarctic program is necessary to study the managing methods of minke populations, and that hunting whale is "an ancient part of its culture."