Argentina reveals financial needs; stock market and the Peso rebound
Wednesday, July 4th 2018 - 08:13 UTC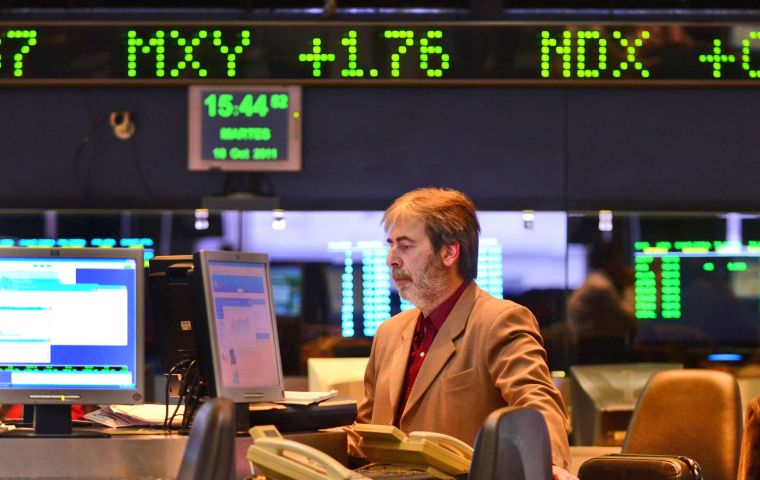 Argentina will need to raise a net US$ 8 billion in the domestic debt market in 2019 to meet financing needs that include a US$ 7.4 billion primary deficit and US$ 25 billion in debt principal and interest payments, according to a Treasury Ministry document.
Argentina will use US$ 11.7 billion from its US$ 50 billion credit line with the International Monetary Fund (IMF) in 2019 and US$13.4 billion between July and December 2018, according to a presentation to investors by Treasury Minister Nicolas Dujovne to investors published on Tuesday.
It will raise US$ 3 billion in international markets, all to cover maturing debt, according to the presentation.
The Peso currency rose for the second straight session on Tuesday following a sharp drop last week, bolstered by a surprise hike in bank reserve requirements by the central bank. A run on the Peso in recent months prompted the government to turn to the IMF for funding.
Stock markets also rebounded, with the benchmark Merval stock index closing up 7.38% on Tuesday. Bonds were also higher, with over-the-counter bonds up 1%, on average.
According to the presentation, the government needs to issue new debt equivalent to US$ 1.2 billion for the remainder of 2018.
Argentina announced on Monday that it would sell one-year, dollar-denominated Treasury notes, though it did not provide an amount. On Tuesday, it delayed the deadline for investors to present their offers to Thursday from Tuesday afternoon.
Argentina may need to issue more debt than planned if it is unable to roll over all of its maturing debt this year and next year, according to the presentation.
This year's primary fiscal deficit, which does not include debt payments, is expected at 2.7% of GDP while the shortfall including debt obligations is seen at 5.1% of GDP, according to the presentation.
The deficits in 2019 are projected at 1.3% and 3.7% of GDP, respectively, according to the presentation. The government expects a flat primary balance in 2020 and a financial deficit including debt payments of 2.3% of GDP. In 2021 the presentation projects a 0.5% primary surplus with a financial deficit of 1.7% of GDP.