Sinn Fein remembers London that the Irish border issue is still pending
Thursday, July 5th 2018 - 06:52 UTC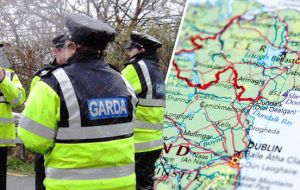 Theresa May's government is more focused on its "internal negotiation" than talks on addressing the Irish border issue, Sinn Fein's vice president has claimed. Michelle O'Neill said any return of physical infrastructure at the border between Northern Ireland and the Republic of Ireland after Brexit would be a security threat and have "serious implications" for business.
She hit out at the lack of progress on addressing the issue ahead of the Prime Minister's crunch meeting with her Cabinet at Chequers on Friday.
"I welcome the commitment to no hard border on the island of Ireland; however, I am yet to see a plan to prevent that happening," she told BBC Radio 4's Today program.
"I think that's been the most disappointing thing throughout the whole of the Brexit negotiations to date."
The British government is "dealing with its own internal negotiation as opposed to the negotiation about actually what the future looks like". She said: "Brexit is catastrophic for the island of Ireland, there is no doubt."
Mrs. O'Neill called for a special status for Northern Ireland which would see it remain in the single market and customs union.
At the Chequers meeting, Mrs. May will attempt to secure agreement on a future customs model aimed at addressing concerns about what happens at the Irish border and ports across the UK.
Mrs. O'Neill said the use of technology and trusted trader schemes to tackle the problem – as proposed under the maximum facilitation model favored by Cabinet Brexiteers – is "a bit of a pipe dream".
She added: "Anything that disrupts trade is going to have serious implications for business. We have been arguing for a special case for the north of Ireland.
Asked about Police Service of Northern Ireland Chief Constable George Hamilton's concerns that any border posts could become a target for dissident republicans, Mrs. O'Neill said: "I would share his concerns.
"We would never want to over-egg or talk that up too much, but the past 20 years have been about bringing down barriers, bringing down borders, and if you have any sort of imposition again of that type of structure then I would be concerned about the future."