Argentina's austere Independence Day celebration in Tucuman, with no military parade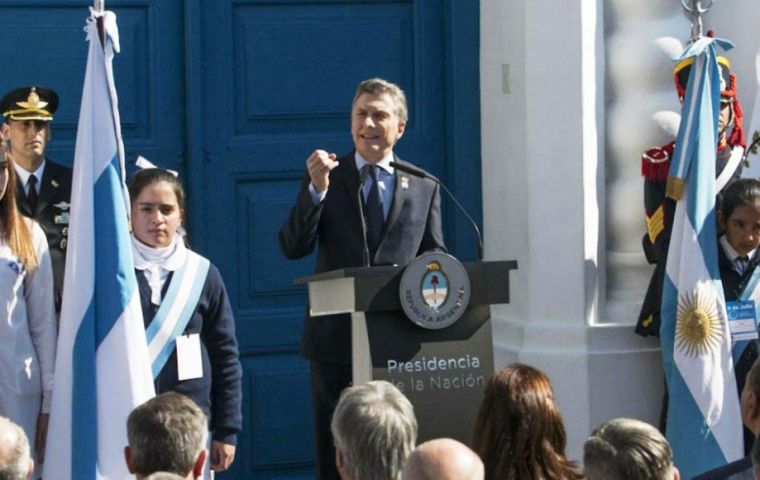 President Mauricio Macri and his cabinet will be celebrating Argentina's Independence Day, Monday 9 July at the Historic House in the northern province of Tucuman, where the declaration was first announced 202 years ago. Contrary to other years there will be no military parade in Tucuman or Buenos Aires, allegedly as a consequence of the strict austerity measures imposed by the Macri administration.
Despite no military display, some 2.500 members of the security forces will be on hand at Tucumán given the growing protest climate in Argentina following the fragile financial situation which has seen the local Peso slide some 40% against the US dollar in six months, while inflation has soared, and according to local economies, recession is round the corner.
This however will not impede the unions and other opposition groupings contrary to the Macri government to organize a major political rally at the heart of Buenos Aires City to protest the economic policy and the signing of a massive support loan from the IMF.
The Tucuman event will be the only official ceremony on Argentina's Independence Day.
However it must be also mentioned that there is deep discontent among the Argentine armed forces, since according to the new budget to be discussed in Congress, proposed wage hikes for officers will be 8% and for junior personnel, 15%. Inflation in Argentina has soared in the first half of this year to an annualized rate of 36%.
The proposed reduction in real pay for the nation's 75,000 armed forces, as well as 700,000 other federal employees, is part of some US$ 9 billion in budget cuts Macri agreed to with the IMF on June in exchange for a record US$ 50 billion stand-by credit line.