Falklands' oil industry on the move as Sea Lion project financing has a pathfinder bank
Monday, July 9th 2018 - 07:34 UTC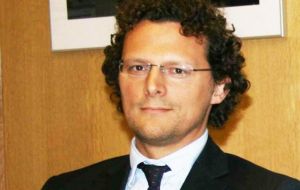 Rockhopper Exploration says Standard Chartered Bank will serve as Pathfinder Bank for the proposed senior debt project financing of the Premier Oil-operated Phase 1 development of the Sea Lion project offshore the Falkland Islands.
AIM-quoted Rockhopper, in a stock market statement, told investors that Standard Chartered Bank has been appointed as the 'pathfinder' bank for a proposed senior debt project financing for the Phase 1 development of the Sea Lion field.
"We are delighted to announce the appointment of Standard Chartered as pathfinder bank," said Sam Moody, Rockhopper chief executive.
"This appointment marks another step for the Sea Lion project as we work towards securing the necessary funding to allow project sanction.
"Standard Chartered is a leader in the field of Energy project financing and has played a significant role in a number of bank and export credit agency led financings in recent years."
In May, Premier (which is Sea Lion's operator, with a 60% stake in the project) highlighted that it was close to selecting the main contractor for the development and that negotiations for some US$400mln of 'vendor financing' were near completion.
That would be just one element in the project financing mix and, at that time, Premier said it expected to name the 'pathfinder' bank "shortly".
Sea Lion's total development costs have previously been estimated at around US$1.5bn.